KFC trolls us all with their new Clean Eating Burger

Cosmopolitan (UK)
1/03/2017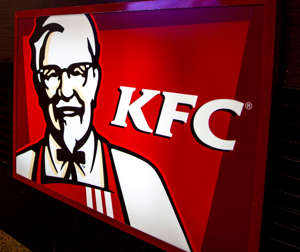 If it wasn't already clear, KFC aren't really here for the clean eating trend - as proved by their new 'Clean Eating Burger'.
Nowadays, it's hard to go near the internet without being swallowed by the hype surrounding whatever the current 'clean' movement is.
Coming Monday: the #KFCcleaneating Burger - made in collaboration with @figgypop_ricepic.twitter.com/EjFCnNx6NY

- KFC UK & Ireland (@KFC_UKI) February 23, 2017
And while we're not knocking a healthy lifestyle or making balanced choices when it comes to diet, nutrition and exercise, KFC seem to have other ideas - after teaming up with Figgy Poppleton-Rice for their new cauliflower and kale creation.
She describes herself as: "clean-eating fanatic, development chef, cauliflower connoisseur. Proud mummy to Julian, the micro-teacup Pomeranian", and, er, it's safe to say she's down for trolling us all, too.
The burger's (a term used loosely) ingredient list includes a 'chia-seeded cauliflower bun', 'unsweetened almond yoghurt', '100% british kale', 'spiralised chicken breast' and (here's the best bit) 'ice cube relish'.
My dairy alternative milkshake brings all the boys to the yard #CleanEating#Diva#DairyFree#Wellnesspic.twitter.com/5y3xN0uKSD

- Figgy Poppleton-Rice (@figgypop_rice) February 21, 2017
Needless to say, it's had a mixed reaction on Twitter:

@KFC_UKIpic.twitter.com/6Mvvufi3up

- Josh Stein (@steinekin) February 24, 2017
.@KFC_UKI@figgypop_ricepic.twitter.com/PTNBlLU19H

- Paul Douglas (@TVPaulD) February 23, 2017
We're assuming this is a wind up... right?