Politicians who like to stay in shape

Photos
12/04/2016
Justin Trudeau, Prime Minister of Canada
The Canadian prime minister is fond of boxing and had a stint as a snowboarding instructor in his younger days. A natural athlete, he climbed the Grouse Grind, a demanding 2798.5 feet (853 meter) peak outside Vancouver last year in an impressive 54 minutes, while most hikers take about 90 minutes. The internet recently went gaga over a photo of Trudeau showing off his yoga abilities, tweeted originally in 2013.
David Cameron, Prime Minister of UK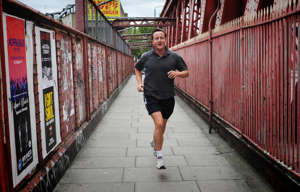 Cameron takes time out of his busy schedule to go running and play tennis at least once a week. He also maintains a healthy sleeping pattern by going to bed early. 
Barack Obama, President of USA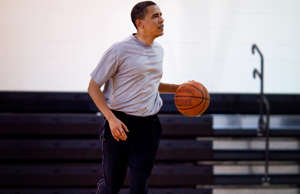 Obama leads a very disciplined life and plays basketball regularly. He also eats healthy, hits the gym and practices alternate resistance training. The White House recently released Obama's health report which suggested he is in perfect condition to lead the country for the remainder of his term.
Vladimir Putin, President of Russia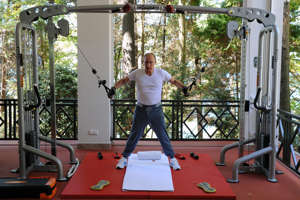 Putin avidly practices judo and is also trained in Russian Sambo (a form of martial art that originated in the Soviet Union.) He also enjoys other sports like hockey and badminton, and is often seen horseback riding, alpine skiing and fishing.
George W. Bush, Former President of USA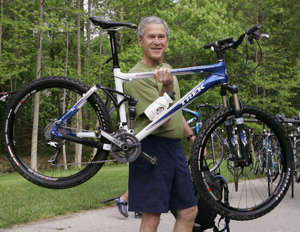 A passionate runner, Bush was known to run six days a week during his term. He even had a treadmill on the Air Force One, which he used during international flights. His fitness regime includes lifting weights and a session of stretching. The former U.S. president also enjoys mountain biking and once took part in the Houston marathon.
Enrique Peña Nieto, President of Mexico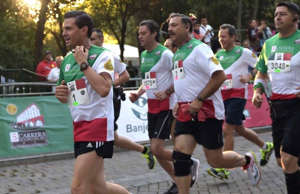 A big advocate of health and fitness, Nieto often motivates his countrymen to maintain a balanced diet, exercise consistently, and play any sport of their choice. He recently ran a 10K in an effort to motivate the country to maintain a healthy lifestyle.
Narendra Modi, Prime Minister of India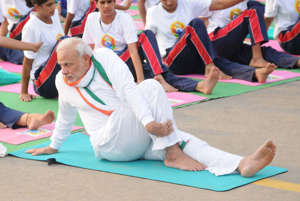 The Indian prime minister practices yoga regularly for his physical and mental well-being. He led a mass yoga demonstration in New Delhi, India on June 21, 2015 to celebrate the first International Yoga Day as declared by the United Nations. 
Tony Abbott, Former Prime Minister of Australia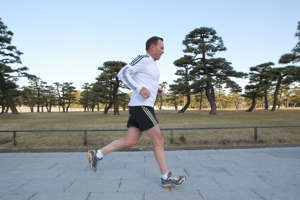 In 2010, Tony Abbott participated in the Iron Man triathlon, swimming 2.3 miles (3.8 km), cycling 111 miles (180 km) and running for 26 miles (42 km) setting a good example of his physical and mental endurance. During his tenure, he used to regularly cycle up and down hills near the Parliament House four to six times around dawn and followed a morning routine of about 40 minutes in the gym after Question Time.
Jigme Khesar Namgyel Wangchuck, King of Bhutan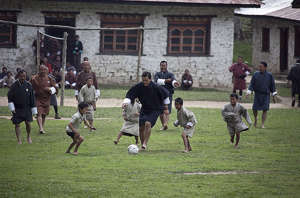 An avid basketball player, the Bhutanese king also enjoys meditation. He switched from playing soccer to basketball after he realized that his opponent refrained to strike past the ball against him as a goalie because of his royal stature.