The Health Benefits of Vinegar

U.S. News & World Report - Health
20/01/2017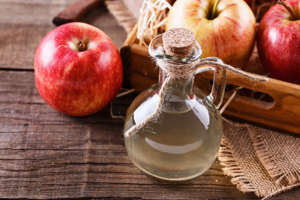 While it's not a miracle elixir, vinegar can give your health a boost in these ways.
Move over, balsamic! A new crop of gourmet vinegars has arrived, offering new flavours and possibly even novel health benefits. From fruit- or herb-infused vinegars (think: raspberry, pineapple, rosemary) to drinking vinegars like those from McClary Bros. or the organic Suja brand, vinegars have become hot ingredients in the kitchen. 

Grain vinegars and fruit vinegars, both of which are fermented, possess a variety of beneficial physiological effects, including antibacterial and antioxidant properties and even some anticancer activities (particularly with Japanese black soybean vinegar), according to a 2016 review in the journal Comprehensive Reviews in Food Science and Food Safety.
Granted, the health-related benefits of vinegar aren't a new phenomenon. Back in 400 B.C. the ancient Greek physician Hippocrates reportedly used fruit-derived vinegars to treat wounds, coughs and other ailments. Fast-forward to today, and vinegar is showing promise as a tool to improve blood sugar control and blood lipid (or cholesterol) levels – perks that stem largely from the polyphenols and the acetic acid in vinegar, and the probiotics (health-promoting bacteria) that result from the fermentation process. These days, apple cider vinegar is also being touted as a weight-loss remedy, digestive aid, treatment for acid reflux, and more.
"There are a lot of health benefits associated with vinegar but some of them – such as the weight-loss benefits – have been hyped up," says Mary Ellen Camire, a professor of food science and human nutrition at the University of Maine and past president of the Institute of Food Technologists. On the positive side of the ledger, she says, "the acetic acid can interact with starch-digesting enzymes, which will help keep blood sugar down [after a meal] in the short term." 
Indeed, some of the best evidence shows that vinegar has a post-meal glucose-lowering effect in people with blood sugar abnormalities. A 2015 study in the Journal of Diabetes Research found that when people with Type 2 diabetes consumed 30 milliliters (roughly 1 fluid ounce of) vinegar mixed with 20 milliliters water before a meal, their blood glucose, insulin and triglyceride levels were lower for up to five hours after the meal than when they consumed a placebo; what's more, the vinegar-drinkers' forearm muscles had a greater uptake of glucose from the blood, which also helps with blood sugar regulation.
Meanwhile, a 2015 study in the European Journal of Clinical Nutrition found that in people with impaired glucose tolerance (often a precursor to Type 2 diabetes), vinegar ingestion before a meal leads to enhanced blood flow in muscles, improved glucose uptake by muscles, and reduced insulin and triglyceride levels in the blood for up to five hours after the meal. The researchers' conclusion: "Vinegar may be considered beneficial for improving insulin resistance and metabolic abnormalities" in people with prediabetes.

Aside from the blood sugar benefits, some experts believe the enthusiasm for vinegar is somewhat ahead of the science. "It is an ingredient – it's not a superfood," says food scientist Carol T. Culhane, president of International Food Focus Ltd., a Toronto-based regulatory compliance service provider for Canada, the U.S. and the EU. "It has its place in a healthy diet and people are generally going to be consuming it with healthier foods like salads, fermented vegetables or vinegar reduction sauces on seafood – they're not putting it on ice cream."
When it comes to vinegar, experts have varying opinions on whether variety is the spice of life. "I recommend sticking with apple cider vinegar or products containing apple cider vinegar that are unpasteurized and still contain the 'mother' [beneficial compounds including probiotics] – the cloudy particles that tend to gather at the bottom of the bottle," says Josh Axe, a doctor of natural medicine and a clinical nutritionist in Nashville and author of "Eat Dirt: Why Leaky Gut May Be the Root Cause of Your Health Problems and 5 Surprising Steps to Cure It." "Just like milk, the pasteurization process involves extremely high temperatures that will destroy the probiotics, enzymes and organic acids that make apple cider vinegar healthy."
By contrast, Culhane recommends consuming a variety of vinegars – such as blueberry vinegar, rice vinegar, wine vinegars and others – not only for the flavor diversity but "because there are different antioxidants in the different vinegars, and they do complement each other." 

Bottom line: While it's a mistake to view vinegar as a miracle elixir, it can be good for your health in a number of ways, as well as a tasty addition to meals. Just be sure not to drink vinegar straight: "Mix it with water or tea if you're going to drink it," Camire advises. "Otherwise, it can harm your tooth enamel" or burn your esophagus.
Alternatively, you could consume a bottle of drinking vinegar instead of juice or soda. "They are an easy way to get a daily dose of apple cider vinegar," Axe says. "The reality is that, even though we know what we should eat and drink, if those foods or products aren't convenient, we often don't consume them. I'm all for anything that makes getting healthy easier."