Australia sending troops to help with unrest in the Solomon Islands

9News.com.au
25/11/2021
Australia will send dozens of AFP and AFP personnel to the Solomon Islands at its request, after protests in the capital of Honiara turned violent.
Prime Minister Scott Morrison announced 23 AFP officer will be sent immediately, while 43 ADF personnel will go tomorrow.
"Our purpose here is to provide stability and security," Mr Morrison said, adding that Australia will not intervene in the internal issues of its Pacific neighbour.
Prime Minister of the Solomon Islands, Manasseh Sogavare, asked Australia for assistance under a bilateral security treaty agreed upon in 2017.
Australia will also send a patrol boat to the area. Mr Morrison said the Royal Solomon Islands police force has been stretched. 
He said he has received reports of more unrest, increasing number of people on the streets. He noted all Australian high commission staff are accounted for. 
Mr Morrison also stressed Australia's troop deployment to the Solomon Islands is to support local law enforcement.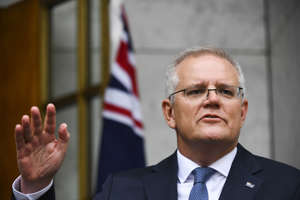 "We are there to support them and what they are doing and to provide that backup, particularly in relation to the critical infrastructure that is there," he said. 
"And it has been important for us to be quite clear with our Pacific island nations in particular with the Prime Minister about the nature of our involvement." 
Minister for Foreign Affairs Marise Payne says the federal government will monitor travel advice for Solomon Islands' capital Honiara after civil unrest triggered a lockdown and overnight curfew. 
"We will continue to review that travel advice as the hours and time pass to ensure that it is appropriate and we will support Australians who may be in the capital," Ms Payne said. 
"I can also advise that the Australian mission in Honiara, all staff and families are safe and they are supporting the government with the provision of information on events as they unfold." 
More to come...