Bob Hawke, Australia's 23rd prime minister, dies aged 89

ABC NEWS
16/05/2019
Video provided by AAP
Bob Hawke, Australia's 23rd prime minister and Labor Party legend, has died at the age of 89.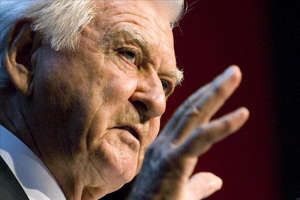 © ABC News Bob Hawke was Australia's 23rd prime minister. Mr Hawke led the country and his party from 1983 to 1991, and his contribution to public life helped shape modern Australia.
A great conciliator, Mr Hawke's achievements as prime minister included modernising the economy and integrating it into the global community, establishing Medicare, and championing environmental issues.
He won four federal elections, making him Labor's longest-serving prime minister and Australia's third-longest-serving prime minister behind Robert Menzies and John Howard.
Mr Hawke is survived by his wife and biographer Blanche d'Alpuget, and his three children — Susan, Stephen and Rosslyn.
Ms d'Alpuget released a statement saying "he died peacefully at home" and that his children, stepson Louis, and his grandchildren would hold a private funeral ahead of a memorial service in Sydney in the coming weeks.
"Bob was dearly loved by his family, and so many friends and colleagues," the statement read.
"We will miss him.
"The golden bowl is broken."
Current Labor leader Bill Shorten tweeted that Mr Hawke was the labour movement's "greatest son".
"Australians everywhere remember and honour a man who gave so much to the country and people he cared for so deeply," he said.
"May he rest in peace."
Mr Hawke's famous political rival, Paul Keating, who took over as prime minister and Labor leader after a 1991 leadership spill, said the pair enjoyed a "great partnership" and "the country is much the poorer for Bob Hawke's passing".
"Bob possessed a moral framework for his important public life, both representing the workers of Australia and more broadly, the country at large," Mr Keating said in a statement.
"He understood that imagination was central to policy-making and never lacked the courage to do what had to be done to turn that imagination into reality.
"And that reality was the reformation of Australia's economy and society and its place in the world."
Mr Hawke was too ill to attend the launch of the Labor Party's election campaign earlier this month, but Mr Keating said they had spoken about their support for Mr Shorten at the upcoming election, describing it as their "last collaboration".
"Bob, of course, was hoping for a Labor victory this weekend. His friends too, were hoping he would see this," Mr Keating wrote.
Bob Hawke's life in pictures