Museum devastated as bushfires ease in NSW

AAP
13/09/2017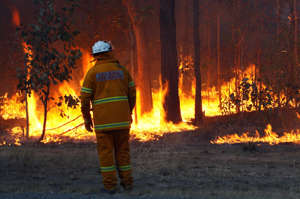 NSW bushfire authorities are warning the fire threat is not over despite cooler conditions helping contain the 90 fires across still burning in parts of the state.
"(There's been) a little bit of light rain on some of these fire grounds but definitely not enough to extinguish them but still a long day ahead," NSW Rural Fire Service spokesman Ben Shepherd told Nine on Thursday.
He said firefighters would be focused on containing the current fires, which took off on Wednesday during an unseasonably hot spring day. Around 25 of those fires are still uncontained.
A lack of rainfall was the main worrying factor for the upcoming bushfire season.
"The landscape is extraordinary dry," he said.
"Until we get some meaningful rain, we will see these increased risks."
An historic rail museum near Cessnock in the Hunter Valley was devastated by bushfires.
The volunteer-run Richmond Vale Train Museum was caught in the path of one of the fires, with museum chairman Peter Meddows saying the damage bill would be about $1 million.
"It was total devastation, there was smoke, things smouldering," he said, adding the museum's buildings remain standing but historically significant train carriages had been lost forever.
"It's a bit heartbreaking."
RFS superintendent Paul Jones said on Wednesday there had been no reports of major property damage in the region but more would be known in coming days.
Crews worked overnight to try and contain the blazes at Black Hill and Richmond Vale.
The RFS continues to fight a 1700 hectare bushfire north of Tuncurry on the NSW mid-north coast and a fire south of Batemans Bay, on the south coast.
Bushfire danger ratings have been eased in many parts of NSW for Thursday following a cool change, but the state's Far North Coast, North Coast, Greater Hunter and New England regions remain a very high fire risk.