'No' supporters 'disappointed' by gay vote

AAP
14/11/2017
Video provided by Nine News
Opponents of same-sex marriage say they will fight to defend any restrictions on freedom of speech and religion as federal politicians begin work on introducing laws allowing same-sex couples to tie the knot.
© AAP Image/Paul Miller Lyle Shelton. The Coalition for Marriage spokesman Lyle Shelton described the 61.6 per cent 'yes' vote in the voluntary survey on same-sex marriage as disappointing, but said the group would respect the decision.
"We will now do what we can to guard against restrictions on freedom of speech and freedom of religion, to defend parents' rights, and to protect Australian kids from being exposed to radical LGBTIQ sex and gender education in the classrooms," he said in a statement on Wednesday.
Pictures: Countries that have legalised same-sex marriage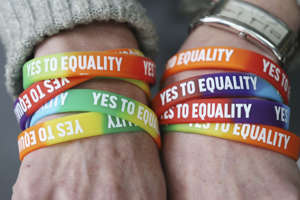 Countries that have legalised same-sex marriage