Germany lifts ban on swastika, Hitler mustache in Wolfenstein video game

dw.com
10/08/2018
A German computer industry body has ruled that swastikas and Hitler's moustache can be depicted in the World War II game Wolfenstein.
The group had previously judged that images should be doctored to remove Nazi symbols.

© YouTube/DerSorbus

A computer game that was barred from showing swastikas and other Nazi iconography in Germany should be allowed to do so, an industry body has ruled.

The German Entertainment Software Self Regulation Body (USK) decided that games should be examined on a case-by-case basis, rather than being subject to a blanket ban.
The USK, which is tasked with regulating age ratings and game content, had previously deemed that the game broke German law by depicting "anti-constitutional" symbols such as the swastika.
Although German law allows the depiction of Nazi-themed films and other "art or science, research or teaching," the rules around computer games are a gray area.
Hitler's missing moustache
Wolfenstein is a series of computer games that originated in the early 1980s in which players battle against Nazi German forces in an alternative universe.
In the German version of the newest edition of the game, Wolfenstein II: The New Colossus, images of Adolf Hitler were changed to remove his moustache and the swastika was replaced with an alternative symbol in the Nazi flag.
The USK, which was given responsibility for policing content by Germany's youth protection services, also said that games themed on the Nazi era would be subject to an age limit.
"Through the change in the interpretation of the law, games that critically look at current affairs can, for the first time, be given an age rating by the USK," said USK managing director Elisabeth Secker.

Gamer uproar
"This has long been the case for films and with regards to the freedom of the arts, this is now rightly also the case with computer and video games," she said.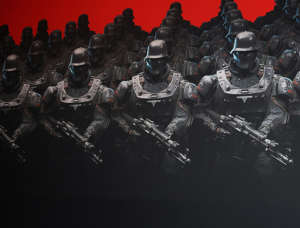 © Getty 'Wolfenstein 2: The New Colossus' exhibit during the Electronic Entertainment Expo E3 at the Los Angeles Convention Center in Los Angeles, California.

From now on, USK judges will decide if content has "an artistic or scientific purpose, or helps to depict current or historical events."
The alterations to the game had sparked uproar in the gaming community, which said games should be treated like films.
Each evening at 1830 UTC, DW's editors send out a selection of the day's hard news and quality feature journalism. You can sign up to receive it directly here.