Christchurch mosque shootings accused Brenton Tarrant appears in court on murder charge

ABC News
15/03/2019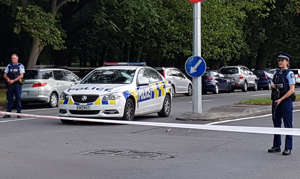 The man charged over the Christchurch mosque shootings has appeared in court and been remanded in custody until April 5.
In a brief appearance on Saturday morning, 28-year-old Australian man Brenton Harrison Tarrant did not apply for bail or for the suppression of his name.
Handcuffed and wearing a prison robe, he was not required to speak, and appeared calm during his three-minute appearance, gazing around a packed courtroom.
As he was being brought into court he made a white power gesture.
Mr Tarrant was charged with one count of murder, further charges will be laid.
Armed police officers were on hand and nearly 50 reporters had packed the courtroom in downtown Christchurch.
The judge barred members of the public from entering the courtroom "for reasons of public safety".
The attack, labelled terrorism by Prime Minister Jacinda Ardern, was the worst ever peacetime mass killing in New Zealand and the country has raised its security threat level to high.
Armed police were also deployed at several locations in New Zealand cities, unusual in a country where levels of gun violence are low.
Ms Ardern has flagged changing the country's gun laws in the wake of the attack.
She said Mr Tarrant had a gun licence which allowed him to legally obtain weapons.
Ms Ardern said he had travelled extensively in the past four years, spending time only sporadically in New Zealand, had no criminal history and was not on any watchlists in New Zealand or Australia.
Two other people remain in custody.
11 people remain in intensive care
Greg Robertson, the chief of surgery at Christchurch Hospital, said surgeons worked in 12 operating theatres through the night to treat some of the 48 people admitted to hospital.
Dr Robertson said 11 people were in the intensive care unit and were considered critically ill.
He said they ranged in ages from the very young to the elderly, but the majority were men in their 30s and 40s.
Dr Robertson said their gunshot wound injuries ranged from "relatively superficial soft tissue injuries" to more complex ones involving the chest, abdomen and the head.
Seven people have been discharged.
Dr Robertson said the experience gained during the 2011 earthquake meant the hospital had the ability to deal with mass casualty events.
Dozens of people laid flowers at cordons near both mosques in the South Island city, which is still rebuilding after the earthquake.
A memorial site has also been set up in the botanical gardens near the hospital where many of the injured are being treated.
The 49 victims include citizens from India, Pakistan, Bangladesh, Saudi Arabia and Malaysia.
Ms Ardern said preparations were being made to start burying the dead on Saturday, in line with Islamic customs.
In Photos: Memorials and tributes