US President Donald Trump issues warning to Australia, world

AAP
20/01/2017
Old alliances, trade deals, relationships, no matter how strong, were put on notice.
Trump told the crowd at his inauguration as the 45th president of the US in Washington DC on Friday that every decision he makes in his four-year term will be "America first".
Speculation Trump would walk away from his inflammatory campaign promises and take a more statesman-like approach in the White House was shredded by a speech where he put Canberra and every other world capital on notice.
© Manuel Balce Ceneta/AP Photo US President Donald Trump. "We assembled here today are issuing a new decree to be heard in every city, in every foreign capital and in every hall of power," Trump, with former president Barack Obama sitting just a metre or so behind him, said.
"From this day forward a new vision will govern our land.
"From this day forward it is only going to be America first.
"Every decision on trade, on taxes, on immigration on foreign affairs will be made to benefit American workers and American families."
During his successful presidential campaign Trump called out close allies Japan, South Korea and European nations for not doing enough to pay their way militarily.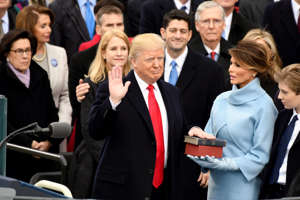 In pictures: The inauguration of Donald Trump He threatened China with a 45 per cent tariff on their goods that, if introduced, would almost certainly lead to a trade war with severe implications for Australia.
The Trans-Pacific Partnership trade pact championed by Obama between the US, Australia, New Zealand, Japan and eight other Pacific nations is likely to be scrapped by Trump within days.
"For many decades we have enriched foreign industry at the expense of American industry, subsidised the armies of other countries while allowing for the very sad depletion of our military," Trump said.
"We have defended other nations' borders while refusing to defend our own and spent trillions and trillions of dollars overseas while America's infrastructure has fallen into disrepair and decay.
"We have made other countries rich while the wealth, strength and confidence of our country has dissipated over the horizon."