'We have found them': Putin says Russia has identified two novichok hitmen who poisoned Kremlin spy and his daughter in Salisbury - but insists they are 'CIVILIANS, not criminals'

Daily Mail
12/09/2018
Video provided by Sky News
President Vladimir Putin says Russia has identified the two men suspected of poisoning a former Russian spy in Britain.
Speaking at an economic forum in Vladivostok, the Russian leader said the pair suspected of the attack on former double agent Sergei Skripal and his daughter Yulia were civilians.
British police have identified the pair as Alexander Petrov and Ruslan Boshirov and claimed they were members of the GRU, Russia's military intelligence service.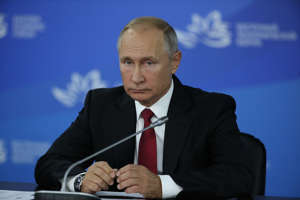 © Getty Russian President Vladimir Putin speeches during the Eastern Economic Forum on September 12, 2018 in Vladivostok, Russia. But Mr Putin said: 'We know who they are, we have found them. They are civilians, of course.'   
It comes amid claims the pair had a 'back up' team with four more suspects still thought to be at large. 
The two alleged assassins are also said to have visited the UK several times, posing as wealthy Russians, so that their trip in March would not attract suspicion.
Work has started to decontaminate the home of poisoning victim Mr Skripal, six months after the attack.
A cordon is in place so that police investigations or clean-up work can be carried out safely and will remain in place until the decontamination has been completed.
Counter-terrorism officers believe the house is where Mr Skripal, a former Russian agent, and his daughter Yulia were contaminated with nerve agent on March 4, after a high concentration of the chemical weapon was found on the front door.
Former GRU officer Mr Skripal and his daughter Yulia were left critically ill after being exposed to the military grade nerve agent Novichok in Salisbury in March.
Experts believe the Novichok was kept in a fake Nina Ricci perfume bottle and claim it took up to three months to produce and was probably sanctioned at the highest levels of the Russian state.
Detectives say it is likely the two suspects, thought to be aged around 40, travelled under aliases and that Petrov and Boshirov are not their real names.
Prosecutors deem it futile to apply to Russia for the extradition of the two men, but a European Arrest Warrant has been obtained and the authorities are also seeking the assistance of Interpol.
Officers have formally linked the attack on the Skripals to events in nearby Amesbury when Dawn Sturgess, 44, and her partner Charlie Rowley, 45, were exposed to the same nerve agent. Ms Sturgess later died in hospital.
Moscow has continued to deny it was involved in the attack.
A critic of Putin's regime has claimed the suspects are 'already dead' and that a search for them is futile.
Andrei Piontkovsky believes that Petrov and Boshirov could have been executed to hide traces of the alleged crime.
He compared the case to that of Andrey Lugovoy and Dmitry Kovtun, the men accused by Britain of poisoning Alexander Litvinenko with polonium in 2006.
Lugovoy and Kovtun went public to deny the claims soon after being accused, meaning the Russian authorities then protected them, said Piontkovsky. 
'Lugovoy and Kovtun rescued themselves by running to Ecko (radio station) and going public,' the respected mathematician and political analyst said.
'One (Lugovoy) even had to be made an MP. If 'Petrov' and 'Bashirov' don't appear in the coming days, it means they are already dead.'