Commonwealth Games closing ceremony panned, Beattie admits 'we got it wrong'

ABC Grandstand
15/04/2018
Video provided by AAP
After a closing ceremony that barely focused on athletes and featured long, rambling speeches, Gold Coast Commonwealth Games chairman Peter Beattie has admitted organisers got it wrong.
The athletes entered Carrara Stadium before the television broadcast and were barely shown TV audiences as they stood in darkness on the fringe of the stage.
There were reports many began leaving the venue less than an hour into the event.
The ceremony also featured at least seven speeches by dignitaries, including Mr Beattie, Queensland Premier Annastacia Palaszczuk, and the Lord Mayor of Birmingham — the 2022 Commonwealth Games host city.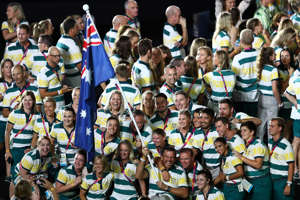 © Michael Steele/Getty Images Flag bearer for Australia, Kurt Fearnley and Australian teammates enjoy the atmosphere. Channel Seven's own commentators, Johanna Griggs and Basil Zempilas, launched into an extraordinary attack on the ceremony immediately after it finished, saying they were "furious".
Mr Beattie tweeted an apology on Monday morning.
"The speeches were too many and too long. I was part of that and I acknowledge it. Again, we got that wrong," he wrote.
"It is very simple. I should not have spoken.
"We wanted athletes to be part of and enjoy the closing ceremony. However, having them come in to the stadium in the pre-show meant the TV audience were not able to see the athletes enter the stadium, alongside flag bearers. We got that wrong.
"This decision to bring the athletes into the stadium before the broadcast was operationally driven given there were restrictions on being able to keep the athletes waiting in comfort. We were driven by the welfare of athletes."
'I'm furious' athletes weren't shown, TV host says
Channel Seven's commentators said athletes were denied the spotlight.
Griggs said her network was not at fault, saying they could only use the pictures provided by the Commonwealth Games host broadcasters.
She was particularly critical of the decision not to show para-sports veteran Kurt Fearnley carrying the Australian flag into Carrara Stadium, surrounded by his teammates.
"They made the decision not to have the actual athletes enter the stadium, they made the decision not to show the flag-bearers and I'm furious," Griggs said.
"You want to see the athletes come and you want to see them jumping in front of a camera, you want to see them celebrating 11 days of great sport. We missed out on all of that."
The ceremony was largely panned on social media, with critics upset about the lack of focus on athletes, quality of the musical performances, speeches and the length of the event.
Pictures: 2018 Commonwealth Games closing ceremony