Renshaw faces test of character: Qld coach

AAP
14/11/2017
Video provided by Nine News
Even Queensland coach Wade Seccombe admits Matt Renshaw would find it hard to avoid reading headlines about his plight after the Test opener failed again ahead of the Ashes.
But Seccombe has backed Renshaw to pass a looming test of character and retain his spot for next week's first Ashes Test in Brisbane.
Renshaw's horror run continued when he was dismissed for just one for Queensland in their Sheffield Shield clash against NSW at Allan Border Field on Tuesday.
The lanky left-hander was caught down the leg-side off Doug Bollinger.
He lasted three balls.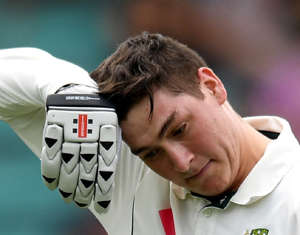 Renshaw - who made 16 in the Bulls' first innings - now has 70 Shield runs at 11.66 ahead of the first Ashes Test starting on November 23.
Pressure looks set to mount ahead of the Ashes opener with ex-Test opener Chris Rogers saying he wouldn't be surprised if the Queenslander was dropped.
"To be out of form going into such a big series...it wouldn't surprise me if they did (drop him)," Rogers told SEN's The Run Home.
Asked if Renshaw could be distracted by unwanted headlines, Seccombe said: "It's probably hard for him to stay away from it.
"It will be a testament to his character to how he responds to it."
The early signs are good.
"He is very positive around the dressing room," Seccombe said.
"He's one of those fun guys. He's loud, he's young and boisterous and that hasn't changed in the good or bad times.
"I am really comfortable with where he is at in his behaviour."
Renshaw was considered unlucky to be given caught behind in the first innings with replays suggesting the opener didn't knick Trent Copeland.
His fortune didn't change in the second dig when Renshaw was caught leg-side to reduce Queensland to 2-5.
They recovered to be 5-129 at stumps on day two with a lead of 41.
"Caught down leg side - you never wish that on anyone but it happens," Seccombe said of Renshaw's luck.
"And it always seems to happen at the worst of times.
"(But) I think so, absolutely (he should be picked for Ashes opener)."
It is believed selectors will show faith in Renshaw for the Ashes opener with in-form Western Australian Cameron Bancroft given a chance to make his Test debut at No.6 at the Gabba.