Comment: The Folau case is a public relations disaster for Qantas and Rugby Australia

The Roar
16/04/2018
Video provided by Newshub
What has happened to Israel Folau indicates that the inclusion and diversity programs run by Qantas and Rugby Australia seem to be, to coin a Trumpsim, 'fake' initiatives.
Moreover, the exposure of the attempts to gag Israel Folau has created a public relations disaster for Qantas and Rugby Australia.
The rugby community boasts that their code is "the game they play in heaven." But for how long in this era when Israel Folau is gagged about expressing his religious beliefs can this boast be proclaimed without someone or some group claiming that they are excluded by the mantra?
There are, as we now know, no limits to the spread of bandwagon fever. Indeed, at some stage, an atheist is going to agitate for Rugby Australia to drop any reference to rugby and heaven.
The point I am making here is that there is no opinion that someone does not find offensive. This is why the test for whether a person violates a code of conduct should never be whether some people believe they have been offended.
Let me state this as strongly as I can. In a free speech society, people are allowed to express views and thoughts that others agree with and others disagree with and even find offensive.
In a free society, you must be free to express views that offend other people.
At the core of the action taken by Qantas and Rugby Australia in the Folau case is the notion that if some members of the gay community are offended, then the right of another person to express his religious beliefs must be suppressed.
But where is the concern about the rights of people who support the religious beliefs of Folau? No one knows for sure, but there could well be a majority of people in the rugby community who support Folau for expressing his religious beliefs.
Has it not occurred to Rugby Australia or Qantas, also, that they represent privileged white males and females telling a person of colour that he must not express his religious beliefs because these beliefs are not inclusive?
Who is being inclusive here?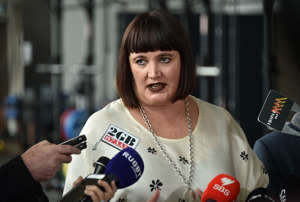 © PETER PARKS/AFP/Getty Images Rugby Australia chief executive Raelene Castle speaks to the media after meeting with Australia Wallabies star Israel Folau about the impact of his anti-gay comments on social media. Has it not occurred to Raelene Castle, the chief executive of Rugby Australia, that by gagging Folau she is also potentially excluding the entire rugby-playing Polynesian Christian community from their rights, guaranteed under RA's Code of Conduct 1.3, to be treated "equally, fairly and with dignity regardless of gender or gender identity, sexual orientation, ethnicity, cultural or religious background, age or disability. Any form of bullying, harassment or discrimination has no place in Rugby."
It is interesting that the only player who has specifically commented on Rugby Australia trying to gag Folau is a fellow teammate, the Polynesian Waratahs and Wallabies player Curtis Rona who posted on Instagram: "We stand with #IsraelFolau."
Rona had this to say in justifying his supportive tweet: "I know it's a touchy subject for people, it's hard for people to comprehend that everyone has a different opinion. I just want everyone to know that I support Izzy, he means a lot to all Christians, and for him to be getting all this negative feedback is very undeserving."
What is Rugby Australia going to do about this statement of support for Folau from a fellow Waratahs player?
Folau, with his tweet about being persecuted for his faith, seems to be in no doubt that he is being bullied by Rugby Australia.
Free speech is only free speech when people are able, on both sides of an opinion, to express their point of view.
This brings us to Rugby Australia's Code of Conduct 1.7 for players: "Use Social Media appropriately … do not use Social Media as a means to breach any expectations and requirements of you as a player contained in this Code …"
And section 1.3 of the Code of Conduct: "Treat everyone equally, fairly and with dignity regardless of gender or gender identity, sexual orientation, ethnicity, cultural or religious background, age or disability. Any form of bullying, harassment or discrimination has no place in Rugby."
I don't see how these sections (1.3, 1.7) of the Code of Conduct can be used against Folau for expressing a Christian belief that is centuries old that does not apply to anyone who is not dead.
I bring in now my main witness in the defence of Israel Folau, Tim Wilson, a Liberal Party Federal MP, a former Human Rights Commissioner, and as a gay man, a leading voice in the Same Sex Marriage debate.
If anyone can provide clarity on the Israel Folau case, it is Wilson.
Here is what he has said about the matter: "Targeting Folau falsely feeds a mindset that he is persecuted for his opinions. Everyone needs to take a chill pill, respect Folau's authority on the rugby field, and also recognise that he is employed in a profession that values brawn over brains…
"It is ridiculous for sponsors to walk away from Rugby Australia because of Folau's opinions. Companies have the freedom to sponsor organisations that share their values, but it would be absurd to make a collective sponsorship decision based on an individual player who isn't hired based on his opinions.
"If Qantas and other sponsors punish Rugby Australia they'd be saying Australians can't associate with them if they have religious or moral views."
Removing Wilson's disrespectful (in my view) dismissal of Folau's intelligence, what he is saying is that Qantas and Rugby Australia have every right to have their own point of view.
But they do not have a right to require individuals involved with their activities to suppress the publication of their religious views.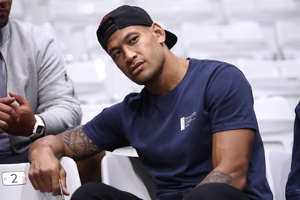 © Phil Walter/Getty Images Wallabies star Israel Folau. Would Folau have been hit with a Code of Conduct violation if Rugby Australia's major sponsor Qantas had not made a complaint? Of course not.
There is no doubt in my mind that the real reason Rugby Australia is trying to gag Folau is that Qantas wants him silenced. Rugby Australia gets a third of its income from sponsorships. Qantas is a major sponsor.
It would appear, therefore, that Rugby Australia is trying to protect its sponsorship from Qantas by trying to gag Folau.
Qantas has the right to put its sponsorship where it likes.
But there is an obvious problem with the company's objection to Folau's expression of his religious belief on gays going to hell. That problem relates to the fact that the attack on Folau is totally hypocritical.
As a letter writer to The Australian has pointed out: "How, then, is Qantas able to continue its partnership with Emirates, given the Islamic injunctions against homosexuality in the United Arab Emirates?"
The hypocrisy has been intensified even since Qantas made its attack on Israel Folau.
A few days ago, after Qantas sought to gag Folau, the company announced that it had sold its catering arm to its "global alliance partner Emirates."
If the deal is approved by the ACC, the Emirates dnata catering, cargo handling group will have 11 catering facilities in Australia and will operate in 13 countries, including all the Emirates in the UAE.
This, in turn, means that about 1200 employees in Australia will become dnata employees.
How would Rugby Australia react if Emirates dnata catering, cargo handling group told the organisation that in accordance with its beliefs about homosexuality it would sponsor Rugby Australia if it stopped the practice of allowing Wallabies to march in the Gay and Lesbian Mardi Gras festival in their Wallaby jerseys, a practice that has been sanctioned for some years?
This case of Qantas and Rugby Australia trying to gag Israel Folau from expressing his religious beliefs has degenerated, it seems obvious from public comments in the media from commentators ranging from Tim Wilson, to Peter Beattie in his role of ARL Commission chairman, through to Alan Jones, into a public relations disaster for both organisations.
Qantas has been painted as a hypocritical organisation more interested in thought-control than freedom of expression.
The company and its chief executive are happy to do business with Islamist businessmen who tolerate the awful punishment of homosexuals.
But, at the same time, Qantas is prepared to persecute a sportsman with an impeccable record of public behaviour because he dares to express traditional Christian beliefs on hell.
Rugby Australia is currently running an inclusion and diversity program to encourage Polynesians and Muslim youngsters to get into rugby.
Its handling of the Folau case has created a public relations disaster for that program.
How is Rugby Australia going to explain to Christian Polynesian and Muslim youngsters that the expression of aspects of their religious beliefs will not be tolerated if they become good enough to become professional rugby players?
Raelene Castle, the chief executive of Rugby Australia, is insisting that Rugby Australia's inclusion policy is about "family where everyone feels welcomed and everyone can be respected."
Try asking Israel Folau whether he feels welcomed and respected by Rugby Australia.
Try asking the thousands of Christians in the rugby community whether they now feel welcomed and respected by Rugby Australia.
I leave the last word on this matter of whether Israel Folau should be gagged by Rugby Australia and Qantas with Peter Beattie, the ARL Commission chairman: "Look, in terms of his comments, there is nothing illegal with what he said. They are not views I share. But we do live in a democracy and people are entitled to their views as long as they are not illegal.
"The reality is people like me don't agree with him but that shouldn't stop him from playing football … I just think we should be a little careful here not to get too autocratic about what people can say and can't say."
Mark this up to a public relations victory for the NRL over Rugby Australia, especially in the Polynesian community.