10 of the world's best natural wonders … that you've probably never heard of

The Guardian
3/06/2015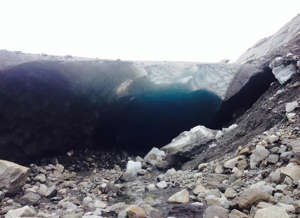 © AP Photo/U.S. Forest Service, Miles Gayton Above and Beyond Alaska Mendenhall Glacier in Alaska. From Europe's deepest river canyon and caves that glow in the dark to a rainbow river and hills that look like chocolate, this selection proves that nature always does it better.

1. Mendenhall ice caves, Alaska, US
Imagine standing in a natural glassy dome illuminated by eerie blue light … A visit to Mendenhall ice caves is a rare chance to step into the heart of a glacier. The 12-mile-long stretch of ice (it is getting shorter every day, because of global warming) near Juneau in south-east Alaska, is surrounded by pristine countryside that includes hiking trails through a landscape populated by bears, porcupines and eagles. Glacier treks (eight-hour trip $230), explore the caverns and crevasses of the ancient ice feature.
2. Chocolate Hills, Bohol, Philippines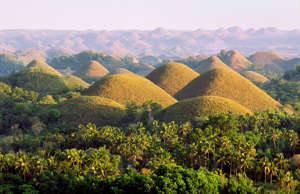 © Philippe Body/Hemis/Corbis Chocolate Hills of Bohol Island. Like something out of Super Mario Land, the Chocolate Hills are a bizarre geological formation. The perfect, grass-covered, mole-hill-like mounds are scattered through a large forest; there are estimated to be up to 1,776 in the 50 sq km area. The oddity picked up the name because during the dry season the grass turns brown, and some have compared the hills to Hershey Kisses. They are on Bohol Island and visitors can take tour of the hills from the small town of Carmen.

3. Helmcken Falls, British Columbia, Canada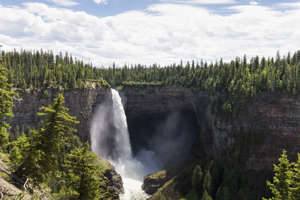 © WestEnd61/REX Helmcken Falls in Wells Gray Provincial Park, British Columbia, Canada. Wells Gray provincial park is a stunning area of natural beauty with several breathtaking waterfalls within its pine forested wilderness. Helmcken Falls is perhaps the most spectacular: one of the reasons the park was created was to protect this natural wonder. The 141m waterfall (the fourth-highest in Canada) tumbles off a cliff edge into a vast stone bowl surrounded by pine trees. An ice-cone that forms at its base in winter can reach up to 50m. There are more than a dozen campsites to pitch up at, as well as cosy B&Bs such as Clearwater Springs Ranch, a good choice for anyone who likes home comforts while exploring the wilds.
4. Tara canyon, near Žabljak, Montenegro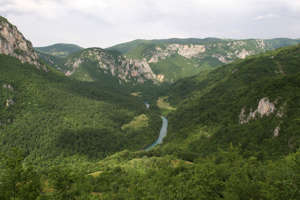 © AP Photo/Amel Emric Parts of the Tara canyon are 1300 m deep, which makes this canyon the deepest in Europe. With a maximum depth of 1,300 m, Europe's deepest river canyon is a vertigo-inducing sight. To get an idea of how impressive that is, the US's Grand Canyon has an average depth of 1,600m, so it's really not far off. The 82km-long canyon runs through Durmitor national park, with the Tara river rushing through its bottom. The best way to explore the canyon is by boat; the last stretch of the river has over 20 rapids that can be tackled on a white-water rafting tour.

5. Benagil beach sea cave, Portugal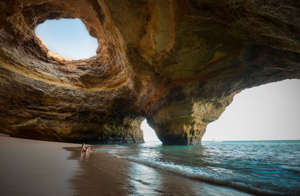 © Spotcatch/Westend61/Corbis There's an otherworldly feel to this unusual rock formation in the Algarve, which sweeps overhead to create a series of natural stone arches. The cave is one of several cut into the cliffs near the fishing village of Benagil, and visitors can take boat trips to them and other, isolated beaches along the Lagoa coast. The Benagil cave is 150m from the village's main beach, but can only be reached by the water. If the sea is calm, it is possible to swim there. Another option is a paddleboard adventure through them, a great way to navigate the tranquil environment at a slower pace.
6. Caño Cristales, Serranía de la Macarena, Colombia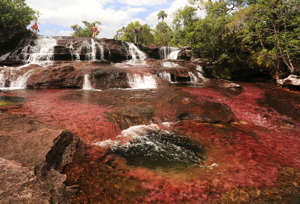 © JOSE MIGUEL GOMEZ/Newscom/Reuters Eco-tourists walk through part of the Cano Cristales in the Sierra de La Macarena National Park in Meta province. It only takes one look at the Caño Cristales to see how it earned its name – the liquid rainbow. For a few weeks every year, between September and November, the conditions cause the river to explode in colour, when the sunlight triggers a plant that lines the riverbed – the the Macarenia clavigera – to turn bright red. The streaks of crimson mix with dashes of yellow, brown shades of sand and water that shimmers in blue and green, creating a technicolour mix unlike any other. The river is near La Macarena in Meta province, deep in the Colombian grasslands. Once an area associated with cocaine production, it has only recently become a safe tourist destination, and several companies offer tours from Bogotá.
7. Waitomo Glowworm Caves, North Island, New Zealand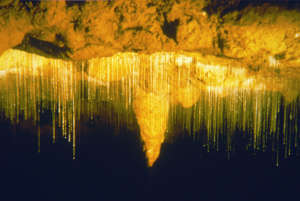 © OJ_Berlin/Getty Images Lining the ceiling like fluorescent space stickers found in a kid's bedroom, the glowworms of Waitomo's caves were discovered over 120 years ago and create a magical spectacle. In 1887, local Maori chief Tane Tinorau and British surveyor Fred Mace floated into the cave on a raft, and eventually found an accessible land entry point, which is still used by visitors today. The cave has been a tourist attraction since 1889, when Tinorau and his wife would give guided tours for a small fee. Even today their descendants work as staff at the caves. A walk through the limestone caverns concludes with a bug-illuminated boat ride.
• Admission adult £23, child £10, family £56, open daily 9am-5.30pm (5pm season), waitomo.com
8. Jellyfish Lake, Palau, south Pacific

© Bernard Radvaner/Corbis Cloud of jellyfish, Palau, Caroline Islands. If they were poisonous, this lake would be a lot less fun. Fortunately, the two species of jellyfish in this unusual environment are harmless to humans (technically they do have sting cells, but it's unlikely you'd notice them). The marine lake is the only one open to tourists in Palau and is on Eil Malk, part of the wild Rock Islands. Millions of jellyfish drift from one end of the lake to the other each day to feed. The lake is reached by a 45-minute boat ride from Koror; the creatures float in the water like luminous lanterns and are best viewed by snorkelling among them.
9. Ik-Kil cenote, Yucatán, Mexico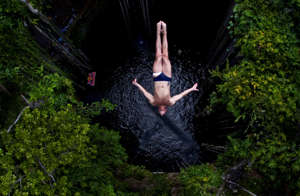 © AP Photo/Dean Treml, Red Bull Slava Polyeshchuk dives into the Ik Kil cenote during the Red Bull Cliff Diving World Series in Mexico. Cenote comes from a Mayan word meaning "well" and is used to describe naturally formed pits or sinkholes, usually caused after the collapse of a cave. The Ik Kil cenote is a magnificent one – considered to be sacred and found en route to the ancient city of Chichen Itza. A 26m-high circular rock shaft surrounds a turquoise pool of water, with jungle vines draped over the edge. About 40m deep, the pool is perfect for diving, and ledges have been carved into the limestone rock for this purpose. Ik Kil has been a venue for the Red Bull cliff diving world series – with some of the world's best divers hurling themselves into its depths.
10. Saltstraumen, Nordland, Norway

© STAFF/Newscom/Reuters German Defense Minister Thomas de Maiziere on a boat to see the Norwegian natural spectacle Saltstraumen. Saltstraumen is not a good place to visit if you're prone to seasickness – this we know from personal experience. Every day, at a narrow strait near the town of Bodø, the strongest tidal current in the world gathers its strength, creating a frothing mess of choppy white water full of whirlpools up to 10m in diameter. Caused by 400m cubic metres of water rushing through the 150m-wide sound when the tide changes, the Saltstraumen is a pretty dangerous water feature. Powerful RIB boats take visitors through the sound, and when they cut the engine it feels as if the boat is being pulled down by the whirlpools.