A traveller's guide to Japan during cherry blossom season

Photos
21/03/2016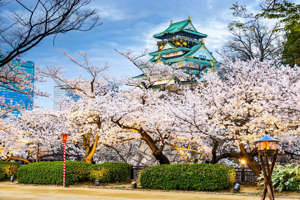 © Sean Pavone/iStock Editorial/Getty Images Spring time in Japan looks straight out of a fairy tale. From late March to April, the country is transformed into a magical landscape blanketed by soft, pink cherry blossoms blooming in all their splendor. Take a trip to Japan this spring and immerse yourself in the exhilarating beauty of nature. But before you pack your bags, take a look at the following facts and tips to get the most out of your trip.
Travel:
Japan has several locations that must feature in your itinerary to get the most out of the cherry blossom season. Some of the must-visit places include Hokkaido, Aomori, Akita, Tokyo, Kyoto, Aichi Prefecture, Nara, Osaka, Hiroshima, Fukuoka, Nagasaki, Hyogo and Gifu. Don't forget to carry a camera to capture the blooming trees. It's a good idea to travel light if you plan to hop from city to another.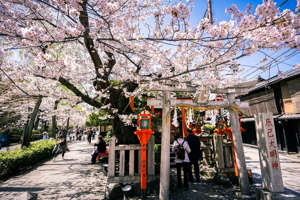 Make reservations in advance. The peak cherry blossom season lasts from the end of March until early April and tickets might be hard to get. Booking through a tour operator could give you good deals including comprehensive tours, hotel reservations and local travel.
It is recommended you buy a Japan Rail pass from any of the designated offices around the world before you leave for your trip. A JR pass will make inter-city travel a lot easier and lighter on the pocket. Passes can be bought with a validity of 7, 14 and 21 days. Other travel options include bus and air travel, but these might be expensive during peak season.
Culture: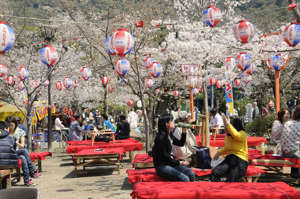 © ImageBroker/REX Shutterstock When meeting and greeting people, bow politely. This versatile gesture is used to show gratitude, respect and even remorse. When a person bows to you, a casual head nod in response will work just fine. Japanese customs also require taking off your shoes when entering a guesthouse, a private home or a temple. 
While eating at a restaurant, it is strongly recommended to not pass your food around with chopsticks or stick chopsticks upright in rice. It is considered disrespectful in Japanese culture. Take care to NOT tip the waiters after your meal – they might find it offensive. Also, eating while walking may not go down well with the locals. 
Avoid using a cellphone or talking loudly on public transport. Japanese people consider loud, brash behavior utterly rude. It's a good idea to learn a few basic Japanese hand gestures before leaving for your trip. Pointing at people and objects is considered offensive. Try using 'san' after a person's name as a mark of respect while addressing them.
Weather: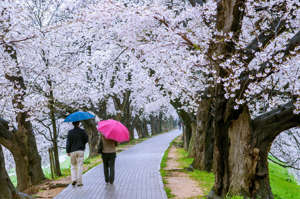 © Getty Images Spring is the best time to visit Japan as temperatures are the most favorable at this time of the year. If possible, start from the southern to the northern tip of the country if you are planning to explore the entire island. This will allow you to catch up with the spring heat. 
Temperatures around this time range from 39 to 66 degrees Fahrenheit so do pack a jacket, just in case. 
A raincoat or an umbrella will also come in handy as rainfall increases slightly around March. The showers are sudden and heavy and can take you by surprise.
Where to stay: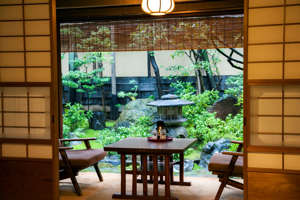 © Leisa Tyler/LightRocket via Getty Images Japan is an expensive country where even a standard room can cost as much as a five-star one in another country. However, there are options that can be explored for a pleasant, economic stay. You can grab good deals by booking business hotels online. Hostels are also a good option and many provide decent facilities like a kitchen.
For a traditional Japanese experience, try staying at a 'ryokan' or a 'minshuku.' A 'ryokan' is a traditional Japanese inn and a little more expensive than a 'minshuku' which are family operated, Japanese-style bed and breakfasts. Both allow you to immerse yourself in the culture of the island. 
Another exciting experience would be to stay at a Japanese temple that offers accommodation. The facilities, though basic and simple, will offer a chance to absorb the peace and tranquility of the area and will be easy on the wallet.
What to do: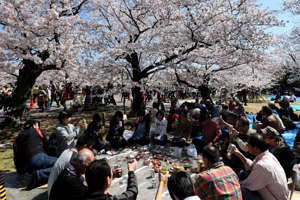 © Buddhika Weerasinghe/Getty Images The best thing to do in Japan during this season is what the locals call Ohanami, or cherry blossom viewing. Japanese people love spending time outdoors during this time, sitting under a blooming tree, eating and drinking with friends, family and colleagues. 

Some of the best places to enjoy the bloom in all its glory are Goryokaku Fort Park, Hirosaki Castle Park, Kakunodate, and Fukuoka Castle Ruins at Maizuru Park.
Once you've had your fill of the season's bloom, you must definitely enjoy all other activities that Japan is famous for such as Geisha performances, sumo wrestling, museums and amusement parks.