Crane driver fesses up to role in Big Mango's 'disappearance'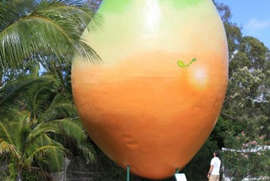 A fast-food chain has claimed responsibility for the elaborate "theft" of The Big Mango in northern Queensland.
The international chain posted a video on YouTube on Tuesday revealing how they completed the stunt.
The footage shows the 10-metre tall mango being carefully hoisted and taken away on a crane in the early hours of Monday morning.
In a statement, the fast-food company thanked the people of Bowen for "being good sports about us 'borrowing' their beautiful mango".
"We promise we're taking good care of it and it will be returned to its rightful position soon(ish)," they wrote.
On Tuesday, a northern Queensland crane driver said his company was involved in a stunt, which resulted in Bowen's Big Mango going "missing" for 24 hours.
Neil Stone, who works for local crane company S&W Crane Hire, said the mango was hidden in bushland about 500 metres away from its home at the Bowen Visitor Information Centre.
"It's 10-metres high and seven metres wide. It's a bit hard to hide, you can imagine. It's on crown land," he said.
Mr Stone confirmed Sydney public relations company Banjo Advertising was involved in the stunt, but wouldn't elaborate on whether the firm had been hired by local tourism officials or someone else.
"I'm not allowed to say anything until this afternoon," Mr Stone said, while laughing down the phone.
Earlier on Tuesday, an older caller rang ABC North Queensland claiming to have stumbled across the giant mango.
When Fairfax Media contacted the tourism centre about 10.30am on Tuesday, staff still said they knew nothing of the attraction's whereabouts.
Staff at Bowen's tourist information centre noticed the $90,000, 10-metre high mango was gone when they arrived at work on Monday.
The story featured across Australian media and even provided fodder for UK tabloids, leading many to question whether the "theft" was a hoax.
Queensland Police told Fairfax Media on Tuesday they had still not received a formal complaint and were not investigating.
And on Monday afternoon, Guardian Australia said it linked a Bowen Tourism press release about the missing attraction to Banjo Advertising, which did not categorically deny it was a marketing stunt. The agency has not returned numerous calls from Fairfax Media on Tuesday.
But early on Tuesday morning, a senior tourism representative insisted the mango disappearance wasn't a clever marketing ploy.
Daryl Hudson, who is listed online as the destination marketing manager for Whitsundays Marketing and Development, said the search for the giant mango was continuing.
"We have put the word out. As you can imagine, the big mango is very important for the community. We haven't received any leads at all," he told Seven's Sunrise program.
When asked whether the theft was legitimate or an elaborate ruse, Mr Hudson didn't provide a direct answer.
"We've given all the information we have over to the police and have been contacting them constantly," he said.
"We don't know whether it's a legitimate theft or it's... someone performing a hoax on us. All we know is it's missing and the community wants it back."
A Tourism and Events Queensland spokeswoman said the organisation was not involved in a potential hoax disappearance.
"It's got nothing to do with us," she said. 
A Bowen's Big Mango page was created on Facebook on Monday morning.
The first post appeared about noon: "Bowen's Big Mango is missing!!! Please share and help us find it!''.
This was followed up with a series of posts including a press release, images of the spot where the Big Mango stood, some "images from security cameras'', and finally a video that shows a crane reversing into shot.
Bowen Tourism chairman Paul McLaughlin told Fairfax Media the mango went missing between midnight and 2am on Monday, with at least six people using heavy machinery and cranes to move the attraction.
"It's 10 metres high and weighs seven tonnes so it wouldn't have been an easy thing to shift, but someone's done a pretty good job of borrowing it," he said on Monday.