Fodor�s Week in Travel: Drink To This

Fodor's
4/04/2014
Looking to make your next vacation a booze-inspired one? Look no further. This week, we found some of the best destinations around the world for alcohol aficionados. Whether you're looking to explore the California wine country, bone up on your knowledge of French spirits, or enjoy a Spritz surrounded by Rome's bustle, we have everything you need to know to plan your next liquor-laden getaway, so drink up with Fodor's Week in Travel.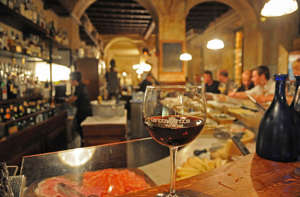 A visit to Northern California is the ultimate experience for any wine connoisseur. With our wine lover's guide to Sonoma's Dry Creek Valley, you can plan your trip to America's vintner capital armed with the best advice about where to sleep, eat, shop, and sip.  
Quickly becoming a cocktail-savvy town, the Windy City boasts an exciting line-up of newcomers to the bar scene. To enjoy the best atmosphere, drinks, and snacks, find out where to drink in Chicago now.
Nearly its 100th birthday, the Pisco Sour is ultimate cocktail compliment for South American cuisine. We've found 5 great places to enjoy a Pisco Sour in Lima, the drink's birthplace.
While France may be best known for its wine country, the Charente region is a must-see for fans of this brandy derivative. Our Cognac lover's guide to France will help you best see this beverage go from barrel to glass in this beautiful town in southwestern France.
A longstanding Italian tradition, l'aperitivo sees Roman locals and tourists alike gather for happy hour in the time between work (or sightseeing) and dinner. Indulge in a glass of wine and a snack at one of Rome's 10 best bars for a classic Italian aperitivo.