Health threat as tourists bring home world's lethal superbugs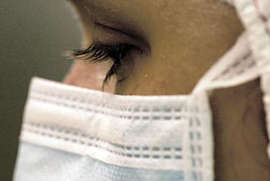 Australians are increasingly returning from overseas with multi-drug-resistant superbugs, prompting warnings for hospitals to isolate high-risk patients to stop their spread.
Infectious diseases expert Lindsay Grayson said, until recently, superbug infections in Australia were confined to patients with weakened immune systems who had taken lots of antibiotics.
But he said hospitals were facing patients infected with superbugs after overseas travel, and many of them were hospitalised during their trip after becoming ill.
Doctors from Melbourne's Austin Hospital wrote in the Medical Journal of Australia they treated 10 patients with superbugs after overseas travel between December 2011 and February last year.
In one case, a 66-year-old man had a ruptured bowel that become infected with superbugs after he had surgery in a Greek hospital.
Once stable, he was flown home to Australia and treated at Austin where doctors ran out of antibiotics and eventually had to remove the man's bowel to rid him of the infections.
Professor Grayson said healthy bowel bacteria were being replaced by superbugs after people consumed contaminated food or water overseas, or spent time in dirty hospitals.
Some people were simply colonised with the superbugs, which did not cause them to become ill, while others developed infections resistant to antibiotics.
Superbugs were becoming so common Austin was now assuming returned travellers had been colonised and could infect others, and isolated them until testing confirmed otherwise.
Patients had been to countries including Croatia, Colombia, India, the Philippines and Mauritius.