Hobbit effect? Record number of tourists flock to New Zealand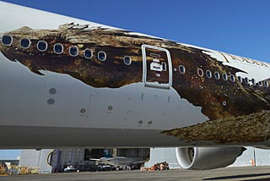 It may have something to do with hobbits, but international tourists can't seem to get enough of New Zealand.
A record 2.7 million overseas visitors touched down in this country last year, providing a shot in the arm for retailers, tourism operators, the hospitality industry and the economy.
Tourism New Zealand estimates the extra 114,112 holiday makers last year from abroad spent $NZ365 million ($A346.46 million).
In addition to a bumper year, December also recorded the highest number of arrivals in any month with 381,000 clearing immigration controls.
Tourism NZ chief executive Kevin Bowler says the growth for the year was driven by traditional long-stay markets and the biggest source of tourists - Australia.
The number of American tourists visiting was up 21.3 per cent on a year earlier while the number of arrivals from Australia, Canada and Germany also grew strongly.
"This continued growth is extremely positive, with Germany showing a great resurgence. Furthermore, the stabilisation of the UK market continues ahead of our projections, with holiday arrivals up 9.9 per cent for the month and 5.7 per cent for 2013," Mr Bowler said.
Arrivals from China, which now provides the second biggest number of tourists to New Zealand, rose 16.2 per cent during the year but fell by 10.6 per cent in December as the impact of the China Travel Law took effect.
The law, introduced on October 1, sets minimum standards for tour packages offered by travel agents in China which has led to up to a 30 per cent hike in the cost of a tour.
Mr Bowler said the new law was supporting its strategy of higher quality itineraries with better experiences to lift the value of the Chinese market to New Zealand and figures showed that tourists from China were travelling more widely and spending more than last year.
"This is very positive as we head into the Chinese New Year celebration which is historically China's busiest travel period," he said.
The number of arrivals from Indonesia, where Tourism NZ upped its activity last year, grew by 11.9 per cent.
TOURIST ARRIVAL FIGURES FOR 2013
Leading countries:
Australia 1,218,016
China 228,928
USA 201,424
UK 191,632
Japan 74,560
Germany 69,808
Total visitors: 2,717,695
Fastest growing markets:
Thailand up 22.2 per cent
Taiwan up 16.8 per cent
China up 16.2 per cent
Singapore up 16.1 per cent
USA up 13.4 per cent
Source: Statistics NZ
AAP