Major League Baseball brings Sydney diamond days and dollars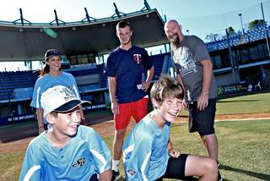 US baseball diehard Michael Dailey has made a $50,000 investment. Not in a home or car, but in a package holiday for himself and nine family members to attend the Major League Baseball Opening Series at the Sydney Cricket Ground next month.
"Australia's a place I've wanted to visit for over 25 years, and this event presented the perfect reason to go," says Dailey, of Arizona, one of thousands of American baseball fanatics taking advantage of the strength of the US dollar to head to Sydney.
The Arizona Diamondbacks and Los Angeles Dodgers go head to head in two games on March 22-23 to open the US baseball season. The games are predicted to drive more than $13 million into the local economy and up to 80,000 travellers from around the world are expected to descend on Sydney.
Hosting the event is a coup for NSW, as this is the first Major League series held in Australia and only the sixth outside the US.
Nearly 70,000 tickets have sold over both days, 16,000 going to interstate and overseas fans. Prices range from $69 to $500 for platinum grade.
The baseball matches come as US arrivals to Australia hit an all-time high of 508,700 last year, up 6.2 per cent on 2012, the latest ABS arrival figures show. The previous annual high coincided with the Sydney Olympics; there were 488,086 US arrivals in 2000.
Tourism Australia spokesman Leo Seaton said the recent resurgence in American travellers was worth more than $2.5 billion to the Australian economy last year. Each spent an average of $5200.
''The [global financial crisis] hit the US pretty hard, and inevitably this has had an impact over the past few years on the numbers of Americans travelling Down Under," Mr Seaton said. ''We always knew that the appetite amongst Americans to travel would return as the US economy improved and the Aussie dollar came off its highs, and made sure we were well placed to take advantage with strong and high-profile campaigns such as Oprah in 2010-11 and last year's 'Best Jobs in the World'."
Sydney baseball obsessives Nicole and Shane Woodhouse, of Penrith, spent $900 on tickets for themselves and their 12-year-old twin boys Tyson and Cameron. The spending figure is likely to double once the family books accommodation close to the grounds and adds food, beverages and merchandise into the mix.
Mrs Woodhouse believes it will be worth the expense. "This is a once in a lifetime event, so we sure as hell don't want to miss out," she said.
The games are increasing bookings for city hotels. Tourism Accommodation Australia NSW director Carol Giuseppi said reservations were "significantly higher than the same weekend in 2013".
Although the $100 million upgrade of the SCG grandstand will not be be fully completed until June, Piers Thompson, general manager of major projects at Sydney Cricket and Sports Ground Trust, says that for the millions viewing the event via television, ''it will look complete".