Nine of the best family trips to take with pre-teens

Wanderlust
17/07/2015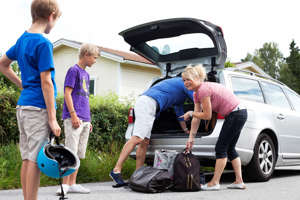 © Maskot/Corbis Pack your bags and take your kids for an adventurous holiday. These trips are designed for families with kids aged 8 to 12 – ideal if you want to try a more adventurous holiday with your choosy pre-teens.
1. Make pasta in Italy
Puglia Family Adventure, Exodus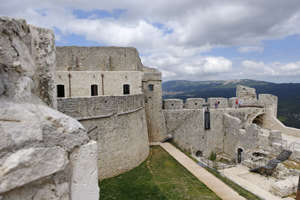 © REX/Image Broker Norman Castle in Puglia, Italy. For families with kids aged 8+
Pizza, pasta and ice cream: the three food groups that every child loves. On Exodus's Puglia Family Adventure, the whole family can gorge on each one – with a special bottle of 'mummy's Ribena' for you, of course. This eight-day trip takes you to 'heel' of Italy, the picturesque region of Puglia which is best known for its crumbling Mediterranean villages and postcard-perfect beaches.
You'll take part in family cooking classes (learn how to make pasta like a pro), eat home-made ice cream, cycle next to the sparkling Adriatic Sea, and poke around the Roman archaeological site of Egnazia. This is two-centre holiday, with four nights in a coastal farmhouse surrounded by olive groves and three nights in a 3-star hotel with a swimming pool.
2. Make your own chocolate in Peru

Adventure in the Andes, Families Worldwide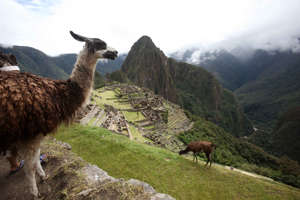 © AP Photo/Karel Navarro Llamas in Machu Picchu in Cuzco, Peru. For families with kids aged 11 and under
Explore the land of the Incas and revel in all that this ancient civilisation held dear: mountains, Machu Picchu and (mmm...) chocolate. Families Worldwide's 11-day Adventure in the Andes trip takes in a huge variety of sights, from the Andean peaks and spectacular coastline to Inca ruins and the exciting city of Cusco.
A day hike up to Machu Picchu is the star of this itinerary, but Peru has plenty of other great experiences to offer too – like climbing the Sacsayhuaman fortress, making your own chocolate bar, stand-up paddleboarding on Lake Piuray, cycling along the River Urabamba, and trying your hand at pottery. Hunt for souvenirs in the craft market of Pisac (a pretty Andean village), soak in the hot springs of Aguas Calientes, and discover the culture-rich cobbled streets of Cusco.
3. Find vikings in Iceland

King of Vikings, KE Adventure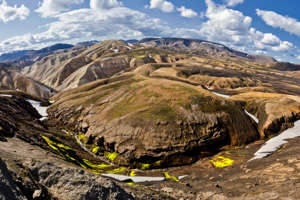 © Image Broker/Rex Features Landmannalaugar, Iceland. For families with kids aged 8+
Iceland was made for family adventures. With its bubbling, squirting, weird-coloured volcanic earth, countless waterfalls, huge groaning glaciers and curious folk stories, it's like somewhere out of a fairytale – fascinating stuff for kids and adults alike.
Over eight days, KE Adventure's King of Vikings group trip loops through south-west Iceland on a spectacular circuit. You'll see Geysir's geysers, gawp at Gullfoss waterfall, take a dip in the Landmannalaugar hot springs and spy puffins at Glacier Lagoon. Even cool kids will be awed by a walk on Solheimajokull Glacier and a visit to a Viking farmhouse near Thingvellir National Park. 
4. Get active in Croatia

Family Croatian Active Adventure, Explore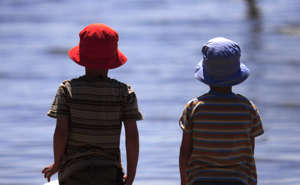 © MATKO BILJAK/Newscom/Reuters Kids with sun hats look at the sea in the small Dalmatian City of Omis during the tourist season in Croatia. For families with kids aged 8+

If your kids have a limitless supply of energy, they'll love this eight-day trip – it's jam packed with adrenaline activities and watersports galore. Explore Travel's Family Croatian Active Adventure does exactly what it promises, with an eye-popping (and exhausting) itinerary of abseiling, canyoning, river swimming and caving along Croatia's coastline.
It's a group trip, so the kids will make friends with their fellow young travellers – and you'll have great adult company too. The holiday is based in a family-run pension with a swimming pool – so if you (or the kids) want a break from the fun and games, there's always somewhere peaceful to chill. Every evening, you'll enjoy traditional Dalmatian home-cooked food (with no washing up!), and the historic town of Trogir is nearby if you fancy a dose of culture. 
5. Go wild in the Wild West

Cowboys and Indians, Grand American Adventures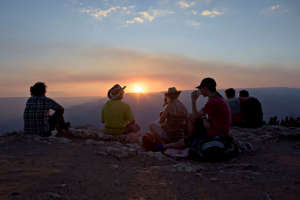 © Daniel Acker/Bloomberg Visitors watch the sun set over the Grand Canyon at the Desert View observation point in Grand Canyon National Park. For families with kids aged 8+
This trip has all the essential ingredients for an epic kids' holiday: lots of wild activities, huge landscapes and sunny national parks where they can run amok. On Grand American Adventures' 10-day Cowboys and Indians trip you'll be whisked to the Wild West, for horse riding in Monument Valley, an overnight stay at a working ranch, and a trip to the whopping Hoover Dam.
You'll spend a full day at the Grand Canyon, with sunset and sunrise views, hiking through the national park in the company of expert guides. And back in 'civilisation', there's a driving tour of the Las Vegas strip – a jaw-dropping experience for kids and adults alike...
6. Safari in South Africa

Cape Town, Garden Route & Safari, Rainbow Tours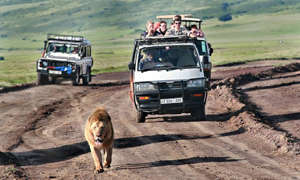 © Image Credit: Shutterstock, Provided by Wanderlust On safari. For families with kids aged 12 and under 
If you're struggling to think of holiday ideas that will engage your choosy pre-teens, you can't go far wrong with Rainbow Tours' Cape Town, Garden Route & Safari trip. Tick off the Big Five in a malaria-free private game reserve, with extra activities – like games, treasure hunts and a kids' club – to keep them entertained while you relax in the luxury safari lodge. 
South Africa has plenty of other wildlife encounters too, so over 16 days you'll meet the meerkats and ostriches of the Karoo town of Oudtshoorn, go whale-watching on the coast of Hermanus, spy elephants in Knysna, and spot dolphins from a Garden Route boat trip. Even the accommodation is engaging and fun: expect family-friendly hotels with special activities for the kids, like African bed time stories, movie nights and babysitting services (if you fancy a night away from your own wild animals). 
7. Explore Borneo – the ultimate playground

Family Fun in Borneo, TransIndus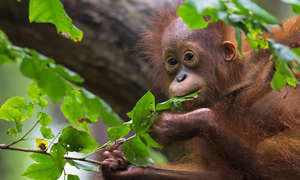 © Image Credit: Shutterstock, Provided by Wanderlust Orang utan in Borneo. For families with kids aged 12 and under

Indulge your little ones' overactive imaginations in the wilds of Borneo: land of orang utans, pygmy elephants and monkeys with rude-shaped noses. TransIndus's Family Fun in Borneo tour will give your kids some epic school holiday stories – and nothing bonds a family quite like adventuring together. 
The kids can play out headhunter fantasies in a remote tribal longhouse in northern Borneo, and learn how to make fire and shoot a blow-pipe at a nearby cultural village. On the island of Selingan (an idyllic white-sandy spot) you'll meet endangered turtles, and along the Kinabatangan River there'll be wild encounters with crocodiles, hornbills and proboscis monkeys. Throw in some canopy walkways and luxury beach-side accommodation, and you've got a holiday that will keep everyone happy. 
8. Cruise heavenly Halong Bay, Vietnam

Vietnam Family Tour, Experience Travel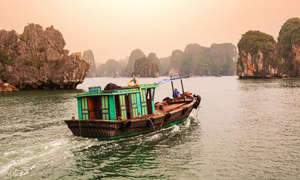 © Image Credit: Shutterstock, Provided by Wanderlust Halong Bay. For families with kids aged 12 and under 

Experience Travel's Vietnam Family Tour is rough and ready – perfect if your pre-teens have a sense of adventure and you want to show them the thrill of the open road. Start with an adventure onboard a rustic junk boat in Halong Bay, where you'll cruise among towering limestone karsts and dock in beautiful lagoons. It's an idyllic spot for snorkelling, kayaking and exploring the coastal caves.
Next, board the overnight train to Hue, where you'll have the option of wandering around the citadel and city or venturing to a nearby national park. The coastal road to Hoi An is, quite possibly, one of the most scenic road trips you'll ever experience – and you'll be dropped off at your hotel which is just a stone's throw from the beach. After a few days of relaxation, take a short flight to Ho Chi Minh City, from which you'll explore the Mekong Delta – a final adventure on this wild, varied itinerary. 
9. Wildlife and waterfalls in Namibia and Botswana

Namibia & Botswana Family Adventure, The Family Adventure Company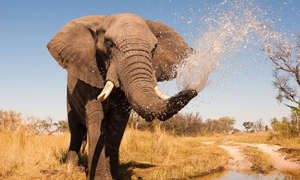 © Image Credit: Shutterstock, Provided by Wanderlust An elephant in Okavango Delta. For families with kids aged 7+
So you like family camping trips? Maybe it's time to take your hobby to the next level: camping in wild, wonderful Africa. The Namibia & Botswana Family Adventure with Family Adventure Travel Company lets you do just that: alongside Victoria Falls, in Chobe National Park, on the banks of the Okavango Delta, in Etosha National Park, and among the sand dunes of the Namib Desert.
At 21 days, this is a BIG trip – jam packed with safaris, horse rides, boat trips and adventures in the desert. You'll swish through the Okavango Delta in dugout canoes, watching elephants wallow in the shallows, and spot the Big Five around the watering holes of Etosha National Park. This is a group trip, so you'll be accompanied by a guide at all times, and the kids will make firm friends with their fellow adventurers.