Now showing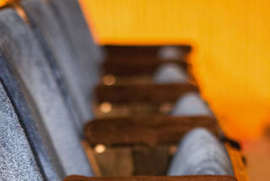 The movies are a must in Buenos Aires, writes Stephen Phelan.
On a rainy Sunday morning in Buenos Aires, I go to see Wong Kar-wai's historical kung-fu movie The Grandmaster at the old Gaumont cinema in the Plaza del Congreso.
The dialogue is in Mandarin, which I don't speak, and subtitled in Spanish, which I can't read fast enough to keep up.
It doesn't matter, the action and the romance of the story are mostly conveyed through flying kicks and lingering glances.
I especially enjoy the double displacement of watching a film mostly set in 1940s China, in a theatre that was built in the same period, on the opposite side of the world.
Buenos Aires, it turns out, is one of the best cities in the world for going to the movies. I can say this because I have been to the movies in every city I have visited for more than a few hours.
And if I'm pressed for time, I will happily miss out on a museum or cathedral visit if I can catch the next screening of a generic American blockbuster at a multiplex bolted onto a shopping mall.
The Argentine capital has its share of those, yet many of its cinemas are much older - almost as old as cinema itself, dating to the time when this was still a relatively new and wealthy nation.
In the golden age of Buenos Aires, which was ending just as Hollywood's was beginning, master architects such as Miximo Gasparutti and the Armengol brothers, Angel and Ramon,were commissioned to design neo-classical movie palaces that would match the grand aesthetic of the capital. Not all of them have survived.
The original Odeon is now a parking lot and the Teatro Gran Splendid has long since been converted into a spectacular, world-famous bookshop called El Ateneo, with stacks and shelves from the stalls to the gods and a cafe where the screen used to be.
Other venues have diversified, and it is now possible to see tango shows and live concerts as well as the occasional movie underneath the domes and columns of the magnificent Cine 25 De Mayo.
The Gaumont, meanwhile, has split its former vast auditorium into three separate screens, but its Art Nouveau facade is perfectly preserved.
Last year, the movie-loving politician Juan Cabandie and assorted Argentine film stars intervened to save this cinema from demolition by real estate developers. "It's a sad trend," says Alejandro Sammaritano, the director of Cine Club Nucleo, an open-door film society that arranges regular screenings at The Gaumont. The club was founded to showcase foreign and domestic movies that were banned or censored during Argentina's military dictatorship. These days, Sammaritano says, the club promotes "that good old habit of watching films at the cinema", thereby helping to protect some of the finest picture houses on the South American continent.
"When I was young," he says, "you would choose where to watch a film with as much care as you chose what to go and see. Every cinema had its own mystery and charm. Nowadays you will mostly get the same experience in Argentina as you would in California or Australia, with all the same odours and carpets and popcorn."
I don't disagree that this is a shame, but I also think that there are subtle cultural differences at play within local branches of bland global theatre chains and you can learn a lot about a place by watching its people watch movies.
Without wanting to generalise, I have observed, for example, that audiences in Tokyo will often maintain a respectful silence through even the most uproarious comedy, while the citizens of Mumbai tend to regard the cinema as a lively social forum for chatting and mingling. Volume-wise, the movie-goers of Buenos Aires seem to fall between those extremes. They will shush each other with considerable venom during the performance, then explode into standing ovations as soon as the credits roll, even for a film as bad as, say, that recent Superman fiasco Man of Steel.
They will also watch epic-length movies late into the night, particularly in the hottest months, when many shows start well after midnight, and the cinemas provide a few hours of airconditioning for those who don't have it at home. At one such screening I met a man who had been to see the new Hobbit film every night of that week - the first time was for the film itself, the repeat visits were just to get some sleep. This is not to say they are undiscerning here. Buenos Aires also seems to be a city of cinephiles, and particular fans of artists such as Ingmar Bergman, David Lynch and Woody Allen, whose most recent film, Blue Jasmine, has been screening non-stop at theatres since its release. After watching it with a wildly enthusiastic crowd at the pleasantly shabby Cine Lorca - a 50-year-old institution on Avenida Corrientes - a local film student and Woody Allen aficionado named Pedro Farah tells me his pet theory. Farah believes this city's moviegoers tend to gravitate towards those directors with the deepest interest in human psychology simply because "so many of them are in therapy".
He might be on to something. In percentage terms, Buenos Aires is thought to have more psychiatrists per head of population than anywhere except uptown Manhattan. I've heard various explanations for this too. Some say the Argentine capital is a confused and confusing place - a European-style metropolis surrounded by endless Latin American countryside, once prosperous and glorious but lately fallen into disrepair.
Perhaps its citizens are still getting over this, or still reeling from their years spent living under military rule.
If BA's mainstream, multiplex options aren't sufficiently appealing, cineastes will travel to the boutique screening room of Cine Club Mon Amour in the old barrio of San Telmo, or the Cine Teatro York in the northern suburb of Olivos. Founded in 1904, it's a small but brightly lit picture house on a street of residential buildings.
It's no longer a space just for movies as plays and recitals are held here too. But when they do show a film, it's usually a classic and entry is always free.
"People come from all over the city," says publicist Nicolas Lucadamo, after a screening of the 1933 Mexican movie Prisoner 13. "Some of them will be young, most will be older. They will laugh or cry or have some other passionate response, whether they like the film or not. Then everyone becomes a critic over coffee afterwards. Sometimes there will be shouting. We love movies here ... but we also love to argue."
FIVE MORE GREAT CINEMAS
ALAMO DRAFTHOUSE
Austin, Texas
A legendary picture house that has midnight movies, artisanal beer and gourmet Tex-Mex food.
CINE THISIO
Athens, Greece
An 80-year-old amphitheatre within sight of the Parthenon and Acropolis screening movies in the open air from April to October.
ELECTRIC CINEMA
London
Perhaps the most luxurious movie theatre in the world, with leather seats, reclining sofas and cashmere blankets for theatregoers.
CINE ACAPULCO
Havana, Cuba
An old-fashioned, wood-panelled masterpiece built just before the Cuban Revolution of the 1950s and unchanged since.
CINEMATHEQUE FRANCAISE
Paris
The theatre, which has a 70-year-old screening room, was recently wrapped inside a beautiful new building by architect Frank Gehry, and houses one of the world's great archives of film-related documents and artefacts.
TRIP NOTES
GETTING THERE
Aerolineas Argentinas has a fare to Buenos Aires for about $2085 low season return from Sydney, including tax, for the 14hr 25min non-stop flight. Melbourne passengers pay about $100 more and fly Virgin Australia to Sydney to connect. See aerolineas.com.ar. 
STAYING THERE
La Cayetana is a 19th century townhouse lovingly converted into a hotel. It's a short walk from the Gaumont and Cine Lorca cinemas, and the other attractions of the "microcentro" and San Telmo districts. Double rooms are priced from about $100. See lacayetanahotel.com.ar.  
Cine 25 De Mayo, Avenida Triunvirato 4440; Cine Gaumont, Plaza del Congreso, Av Rivadavia 1635; Cine Lorca, Av Corrientes 1428; Cine York, Juan Bautista Alberdi 895.
MORE INFORMATION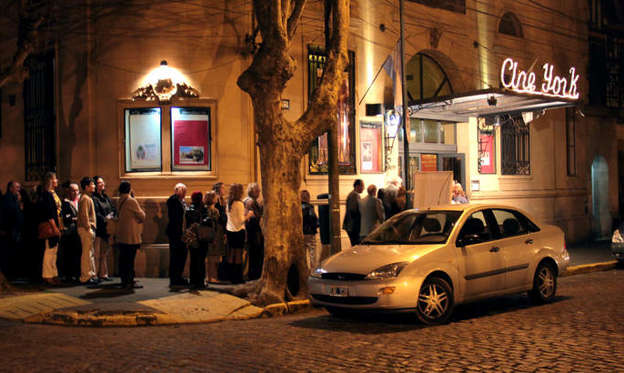 Cine York.
© Jorge Macri