Paradise found: world's best island named in annual TripAdvisor awards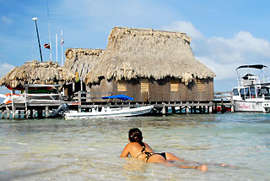 Tripadvisor has named the world's best islands in its Traveller's Choice Island Awards.
Amergris Caye took the top gong for the second year running.
Sitting on the border of Mexico and Belize, it is a fantasy getaway, home to the second largest barrier reef in the world - the first being Queensland's Great Barrier.
It also claims pristine white-sand beaches, spectacular waterfalls, caves and rainforests, which you can zip between in a golf cart – the island's main form of transportation.
Second and third positions went to the Caribbean's Providenciales, Turks and Caicos and Bora Bora in French Polynesia, islands best known for their luxurious accommodation and world-class beaches.
Although some winners will come as a surprise to no-one, islands such as Lewis and Harris in Scotland's outer Hebrides break away from the classic island mold, swapping palms, sand and sun for rugged peaks, art galleries and haggis.
Eerie and desolate Easter Island also rated well in ninth position.
Thailand's Ko Tao scraped into the tenth spot.
The smallest of the three most-traversed islands on the Thai peninsula's east coast is popular with divers looking for cheap certification. Colonies of sea turtles call this island home.
Tourists are also drawn for its reliable weather – it boasts 300 days of sunshine a year. 
Norfolk Island snared a surprising victory over the Australia's most famous, including favourite Lord Howe.
Norfolk's seventh place in the South Pacific's top 10 was earned through its UNESCO World Heritage listing - it was formerly the site of a particularly harsh and cruel penal colony.
Its more recent and less murky history has it pegged as a family holiday destination with its laidback lifestyle, stunning beaches and lush national parks. 
General Manager of Norfolk Island Tourism, Glen Buffett, says it is the diversity in nature, history and activities on Norfolk Island that make it so unique. 
"As a Pacific Island destination, we're constantly surprising visitors with the myriad options available to them – from spectacular beaches, World Heritage historic areas to explore, nature walks and a pristine golf course, to seasonal, island grown fresh food from our many restaurants and cafes. 
"There's so much more to Norfolk Island and it's great to see travellers sharing their positive experiences online." 
Norfolk Island also pipped South Australia's Kangaroo Island, which retained its ninth position from last year.
The Traveller's Choice awards are based on contributor's reviews and ratings of hotels, restaurants and attractions over a 12-month period. 
In recent years the site has come under fire over fake reviews and its ability to make or break hotels due to its huge popularity.
See www.tripadvisor.com.au/TravelersChoice-Islands for all the winners.
Traveller's Choice Top 10 Islands in the World: 
1. Ambergris Caye, Belize
2. Providenciales, Turks and Caicos
3. Bora Bora, French Polynesia
4. Marco Island, Florida
5. Lewis and Harris, Scotland
6. Naxos, Greece
7. Aitutaki, Cook Islands
8. Nosy Be, Madagascar
9. Easter Island, Chile
10. Ko Tao, Thailand 
Traveller's Choice Top 10 Islands in the South Pacific: 
1. Bora Bora, French Polynesia 
2. Aitutaki, Cook Islands
3. Moorea, French Polynesia 
4. Efate, Vanuatu
5. Rarotonga, Cook Islands
6. Waiheke Island, New Zealand
7. Norfolk Island, Australia
8. Taveuni Island, Fiji
9. Kangaroo Island, Australia
10. Espiritu Santo, Vanuatu