Qantas bingle in LA: first pictures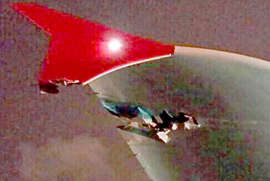 Photos have emerged of the wing tips from the collision between two Qantas jets at Los Angeles International Airport.
Steve Purvinas, the federal secretary of the Australian Licenced Aircraft Engineers Association posted the photos on Twitter on Saturday, with the comment "minor scrape my arse" in relation to the damage to one of the wings.
A Qantas A380 superjumbo collided with a Boeing 747-400, causing damage to the wing tips of both planes and forcing the cancellation of flights.
Minor scrape my arse. A380 wing. pic.twitter.com/gR5lHrx3gF
— Steve Purvinas (@StevePurvinas)
March 1, 2014
The incident occurred at 9pm local time on Thursday (4pm AEST on Friday) while the aircraft were being towed out of a hangar. Sources said they believed the planes had suffered "millions of dollars" worth of damage.
No passengers were on board either aircraft but as result of the collision, the national carrier has cancelled QF94 from Los Angeles to Melbourne and QF16 to Brisbane.
The incident caps off a woeful week for Qantas, which on Thursday confirmed it will axe 5000 jobs, cancel plane orders and retire gas-guzzlers in an attempt to strip $2 billion in costs out of the business.
The 747 victim. pic.twitter.com/3UigmtNA3h
— Steve Purvinas (@StevePurvinas)
March 1, 2014
A Qantas spokeswoman said the airline would accommodate passengers in hotels overnight and put them on the next available flights out of Los Angeles.
"Qantas apologises for the inconvenience to our passengers," she said.
Air safety authorities in Australia have been notified of the accident and a full investigation is under way.
The wing span of a Qantas A380, which can carry 484 passengers, is almost 80 metres.
The A380 (QF94) was due to depart Los Angeles at 11.30pm local time and arrive in Melbourne at 10.20am (AEST) on Saturday. The 747-400 (QF16) was due to depart at 11.50pm local time and arrive in Brisbane at 8.00am (AEST) on Saturday.
Scrapes and close shaves between planes at airports often occur when planes are pulled back from terminals or out of hangars.
In August, a Virgin Australia plane carrying 175 passengers to Maroochydore collided with an empty Jetstar plane at Melbourne Airport.
The incident occurred when the Virgin jet was being pushed back on the tarmac in preparation for takeoff.
No one was injured in that incident but the damage bill was put at $3 million.
With Matt O'Sullivan