Qatar Airways to launch business class-only flights from Heathrow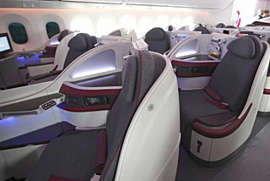 The first all-business class service from London Heathrow is to start on May 15, when Qatar Airways launches its daily Airbus A319 flight service from Terminal 4 of the airport.
The Qatari airline currently operates five daily flights from London Heathrow and the additional sixth service will depart from Heathrow at 9.55pm, with the approximately seven-hour flight arriving in Doha at 6.40am the following day. (A service leaves Doha at 2.50pm each day, landing in Heathrow at 8.25pm).
Seating up to 40 passengers, the single-aisle aircraft will be laid out in a 2-2 seating configuration. Seats recline into fully flat beds and the airline's Oryx entertainment system will be available, meaning customers will have access to over 900 films, televisions shows, music channels and games.
SMS mobile texting GSM and GPRS connectivity will also be available, enabling those in the air to remain in touch with associates on the ground. Those booked on the service will have access to the new Qatar Airways lounge in Heathrow, and the Premium Terminal in Doha.
Launching the first all-business class service is a coup for Qatar Airways, which has been operating for just 17 years but currently manages 129 aircraft and flies to 134 destinations. It isn't the first airline to operate an all-business class service from London, however. British Airways has operated a 32-seat Club World service from London City to New York JFK for some time (though the appeal of that service may be diminished should one-hour commercial supersonic flights recommence between the two cities over the coming years as hoped); exclusive services already available at Heathrow include the Heathrow by Invitation service which, for £1800 ($A3333), allows fliers to complete priority security screening after clearing the airport's restricted-access Windsor Suite in advance of their departure and to enjoy the use of a private lounge before being transferred to the steps of their plane by limousine.
Qatar Airways has yet to confirm an official starting rate for the service, but passengers departing from London on the inaugural flight on May 15 and returning from Doha on May 22 can expect to pay £4325.
The Telegraph, London