Ralph Lauren's niece Jenny Lauren in air rage incident, asks Irish police to speak English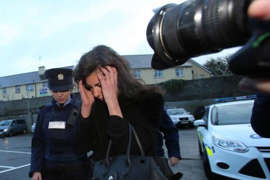 It was perhaps not the most appropriate venue for someone accused of being drunk and disorderly to make a court appearance.
But when Jenny Lauren, the niece of the fashion designer Ralph, was hauled off a transatlantic flight in Ireland following an alleged alcohol-fuelled air-rage incident, the authorities had to make do with what was available.
With no dedicated courthouse in the area around Shannon Airport, the 41-year-old jewellery designer from New York City, was forced to answer charges on Tuesday in the local pub.
After a night in custody, Miss Lauren appeared before a district judge sitting at the Brian Boru Pub in Ballina, where she was accused of breaching the peace on board a transatlantic Delta Air Lines flight from Barcelona to New York.
The brief hearing was held in the downstairs function room of the pub - which is more commonly used to host wedding receptions and Christening parties.
Miss Lauren, who has written a book about her battles with anorexia and bulimia, gave her address as East 65th Street, New York City, as she swore an oath on the Bible.
She spoke only to give her name and nationality and confirm that she only had one passport. She was granted bail on the condition that she remained at a hotel in Shannon Town and lodged £2000 ($3797) as security with the court.
Dressed in a smart black dress, coat and boots, Miss Lauren wept before the hearing and then clutched her hands during her appearance before the district judge.
She left the pub in a black 4x4 and covered her face as she ducked past photographers into the vehicle.
Miss Lauren was arrested when the Delta Air Lines flight was forced to land at Shannon Airport following an alleged drunken outburst not long after take off.
She was charged with "being intoxicated to such an extent as would give rise to a reasonable apprehension that she might endanger herself or other people on the aircraft".
She was also accused of engaging in behaviour likely to cause serious offence or annoyance to a person on board the aircraft after being asked by a crew member to stop.
The third charge was one of breaching the peace by engaging in threatening, abusive or insulting behaviour.
One of the Garda officers who arrested her claimed that when she was detained at the airport she remarked: "Can you say that in English please?"
Judge Patrick Durcan was told that Miss Lauren was ready to enter a plea to the three separate charges she was facing, but he adjourned the hearing, which will now be held at the Ennis District Court about 50 miles away.
More than 200 passengers and crew were on board the flight when the alleged incident took place.
Judge Durcan warned Miss Lauren that he would take into account the inconvenience to others as well as the costs incurred by the airline when he considered the case.
"These are the issues that will have to be addressed and the court will have to be satisfied before they can be discharged," he said.
Miss Lauren, who is the daughter of Ralph's brother, Jerry, the executive vice president at the upmarket fashion house, modelled for the company from the age of seven.
When she was a teenager she developed a series of eating disorders which left her so debilitated that she was forced to undergo surgery.
She later wrote a book about her battles entitled Homesick: A Memoir of Family, Food and Finding Hope.
Miss Lauren worked as an artist and art therapist before starting a jewellery design business in 2011.
The Telegraph, London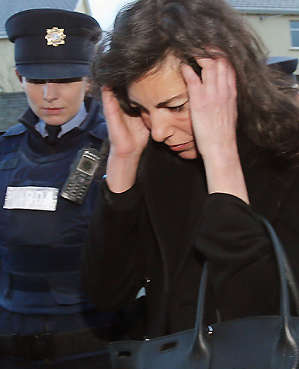 Ralph Lauren
© Ralph Lauren's niece Jenny Lauren in air rage incident, asks Irish police to speak English