Seven reasons to ride the 70-story-high Skyslide

Photos
28/06/2016
• The material used for the 45-foot-long (13.7 meters) slide is made of three-ply glass yet is only 1.25 inches thick.
• It hangs 1,000 feet (305 meters) above the ground on the US Bank Tower, the tallest skyscraper in western U.S.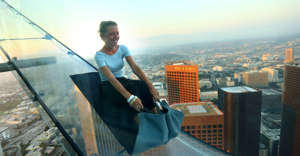 © Mark Davis/Getty Images for Ogilvy PR/Getty Images • The ride is built on the outside of the building and transports you from the 70th floor to the 69th. 

• It's the main feature of OUE Skyspace, an open-air observation deck that offers visitors a 360-degree view of the city. 

• The ride can withstand hurricane-force winds of up to 110 miles per hour (177 kmph).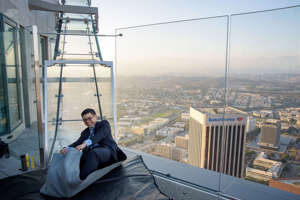 © Marc Flores/Getty Images for Ogilvy PR • Though the tickets cost $25 a person, it's worth the money.
• This see-through slide is one-of-its-kind in the world. There's little reason to miss the experience, right?