Sweet secret of success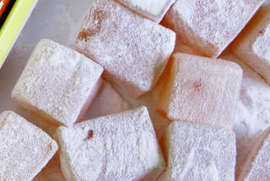 Jamie Lafferty visits the world's first Turkish delight shop, going strong since 1777.
While tracing one's roots has become fashionable in the past few years, most people struggle to dig much deeper than a few generations into their lineage. Being able to follow a clear line back to the 18th century is rare, but then if one of your ancestors effectively invented a world-famous foodstuff, you'd probably know about it, too.
Hande Celalyan stops just short of letting her ancestors take all the credit for Turkish delight, but there's no getting away from how important their role was in its development. "It's a very old recipe - and an anonymous one," she says in Haci Bekir, the world's first Turkish delight shop, not far from the hardly new 16th century New Mosque on Istanbul's historic peninsula.
"This region, the Ottoman Empire, is more than 500 years old. At the start they didn't have starch and refined sugar, so they used some flour for binding the ingredients and it was more like a slurry. Then, after the 18th century, once starch and refined sugar were available, my [ancestor] was the first one who changed over. This made the authentic Turkish delight recipe that we use now."
Celalyan's forebear, Bekir Effendi, opened this place in 1777 to sell his gooey, chewy sweets. It was an immediate success and the business has never been out of the family since. While Haci Bekir has been extended slightly over the years, it's the same shop that's been in operation for more than two centuries. It's also on a national register meaning that even if the owners wanted to abandon it, it wouldn't be left to fall into ruin.
"My great grandfather was declared the chief confectioner to the Ottoman palace. That was very important because it helped promote the business. It also brought in a standard mechanism - you can compare it to quality control today. [Being royal confectioner] had to be proved from generation to generation. When the Sultan changed, he'd have to declare a new chief confectioner too."
From a marketing point of view it was also important as the product was chosen to represent the Ottoman Empire abroad. Turkish delight was taken to international fairs, starting at the Weltausstellung in Vienna in 1873 where it was awarded its first medal of recognition.
"That was very important because the product became known worldwide, and we were able to learn about new possible ingredients and marketing techniques from foreigners," says Celalyan.
A bit like bobsleigh (discovered by drunk British tourists looking for a quick way down the mountain) and Kobe beef (discovered by a ravenous British sailor with a hankering for a steak), Turkish delight has a haphazard association with Britain. An unnamed tourist was so enraptured by the sweet treat that he decided to start exporting it back home, but the Arabic name rahat al-hulqum is too complicated for Turks to say, never mind a lazy Brit. Even their simplified name, lokum, was too tough for the foreigner to pronounce, but he was in Turkey and the taste delighted him, so it got a new name, which stuck like sugar to a child's tooth.
Today, while the original shop is still used to sell the sweets, production has expanded beyond the capabilities of the historic building. The half-dozen employees darting left and right to make up customer orders scarcely have enough room to work as it is, never mind stirring the piping hot mixture. Instead, the majority of work now happens on the Asian side of the Bosphorus, before the final products are sent to one of four shops around Istanbul, or exported around the region.
The classically oriental rose-water flavour is outsold by double-roasted pistachio (Celalyan's personal favourite is walnut). Turkey is the world's largest hazelnut producer, so they've naturally found their way into the mix too, alongside another 20 varieties.
"If you do something for more than two centuries it gets boring for you and for the customers," says the owner. "You have to try new tastes. We have some new flavours with spices: ginger and cinnamon, and another with Turkish coffee beans. It's a game without limits."
She thinks they may soon attempt a diabetic-friendly version, which will be a challenge considering sugar and starch are the core ingredients.
The customers are a mix of tourists and Turks, including a number of Istanbulites visiting their home town on holiday. By far the busiest time of year is during the religious Eid holidays, but sweets are given in times of celebration and mourning so there's never really a quiet period. While they have expanded their business, they have been careful to keep it in the family and don't want to let it get to a size that would require outside investors.
"I am the fifth generation, but my kids, both of whom are studying at university, are interested in the business," says Celalyan. "And they like the taste, thank God, so I hope it will continue for at least another generation." With almost 250 years of familial history bearing down on them, I wonder if it would have been difficult if the kids had wanted to do something else.
"Oh yes, but we somehow have it in our blood I think," she replies. "We were born into this business and you don't think so much about the decision. It's more than a job - it's a cultural heritage for us, a responsibility to move on the tradition."
The writer was a guest of the Turkish Tourism Office.
TRIP NOTES
GETTING THERE
Emirates has a fare to Istanbul for about $1970 low season return from Melbourne and Sydney including taxes. Fly to Dubai (about 14hr) and then to Istanbul (5hr). See emirates.com, phone 1300 880 599. Australians visiting Turkey must obtain an electronic visa before arrival. See evisa.gov.tr/en/.
EATING THERE
Haci Bekir is one of literally hundreds of Turkish delight shops in Istanbul. Others sell more varieties than them, but none have the same history. Prices vary depending on quantity and the type of sweet. If you're not a fan of the classic rose-water flavour, the double-roasted pistachio wins most people over. See hacibekir.com.tr.
STAYING THERE
The newly opened Shangri-La Hotel is literally on the shores of the Bosphorus, with views across to the Asian side and the constant bustle of boats making their way between the Black and Marmara seas. The concierge can arrange tours around the city, including visits to Haci Bekir. Doubles start from $540. See shangri-la.com.
MORE INFORMATION