The top destination on Earth, from space: astronaut Chris Hadfield reveals where he wants to go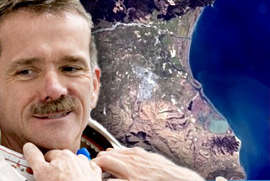 Circling the globe in outer space, retired Canadian astronaut Commander Chris Hadfield was so taken with his view of New Zealand's Marlborough region that he singled out the region as the place he most wanted to visit on Earth.
Commander Hadfield said he was attracted to the area in a BBC interview about his expedition serving as commander of the International Space Station early last year.
"It's a very photogenic part of the world you live in," he told the interviewer, Kiwi expat Lucy Hockings.
Later in the interview, Commander Hadfield confirmed the place he most wanted to visit on Earth was the top of the South Island's wine country.
"It just looked so beautiful."
In April, Commander Hadfield tweeted a picture of Marlborough from outer space, showing Waihopai Valley livestock crops such as corn, red clover, grass and barley grown on land next to vineyards owned by Ara.
"Blenheim, New Zealand, in the lovely centre of wine country," he tweeted.
Hadfield gained a huge social media following through posting about life aboard the space station and taking pictures of Earth, including a video of himself performing David Bowie's Space Oddity in zero gravity, before returning in May and announcing his retirement.
Destination Marlborough general manager Tracy Johnston was delighted with his comments and hoped it would result in a visit so he could see what Marlborough looked like "on the ground".
"He has a massive international following, so as an influencer, having him come to the region and have him share his views on social media about the wonders of Marlborough really is great publicity for the region," Mrs Johnston said.
Destination Marlborough saw the interview last month and was liaising with Tourism New Zealand to set up a visit.
Tourism New Zealand public relations staff were working with their counterparts in the United States, she said.
They had the authority to initiate an invitation, while Destination Marlborough looked after logistics such as attractions to visit and things to do in the region.
"We saw the interview and thought, 'Oh, light bulb opportunity. Let's see how we can get him down here and make it happen'."
- The Marlborough Express/stuff.co.nz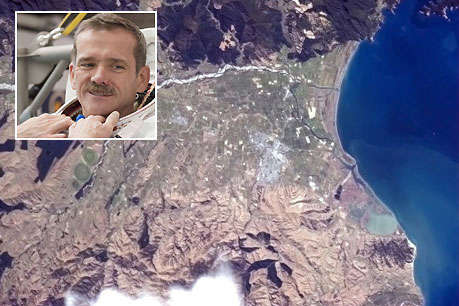 Blenheim Chris Hadfield
© The top destination on Earth, from space: astronaut Chris Hadfield reveals where he wants to go