Traveller letters: Insurance - why am I paying for this?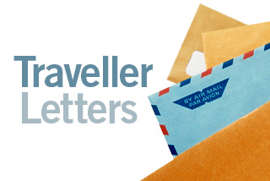 HARD TO STOMACH
On the day before I flew home from Dubai, following a six-week holiday in Italy, France, Spain and Portugal, I fell ill. At 10am, after vomiting for six hours, I called reception seeking a doctor. One arrived within 30 minutes. The bill came to about $160 plus another $50 for drugs. I recovered quickly.
However, I was not able to claim on my travel insurance because the cost was well under the excess. Medicare rejected my claim stating, "The service you have claimed is not covered by us". My private health would not meet the claim either - "Our fund does not pay a benefit towards expenses incurred whilst overseas". Given the travel insurance premium, pro-rata monthly premium for private health cover and Medicare total more than $2000, I'm not sure what I'm paying for. Moral of the story: fall ill with something very expensive, so you can claim it on your travel insurance.
- Michael Considine
LETTER OF THE WEEK
There's another reason not to miss the food halls in Tokyo's wonderful department stores (Traveller, January 18). After 4pm, the stores' fabulous bento boxes are heavily discounted. The quality of the food - from Japanese cuisine to Western-style delicatessen treats - is superb. After a heavy day's sightseeing, there is nothing better than to retire to your hotel room with one of these gourmet treats.
If you insist on dining out, I'd recommend Tokyo's best tempura restaurant, the moderately priced Tempura Tsunahachi, not far from the east exit of Shinjuku Station.
- Garth Clarke
SINKING FEELING
Our travel agent has advised us our Silversea cruise of the Mediterranean for September 2014, which we booked and paid last April, has been cancelled. We had planned to put two cruises together to take us from Barcelona to Venice over 18 days. We now have a nine-day hole in our itinerary to fill, as our airfares are non-refundable, so can't be adjusted without loss.
We are very disappointed with Silversea. We are still waiting for the refund but, of course, reference to the fine print shows they have it covered.
- G. Dewberry
LOBBY FOR CHANGE
Hotel accommodation is a profit-driven enterprise, where charging for individual benefits and concessions makes for a rich harvest. It is high time hotels offered discounts for those facilities and conveniences that a guest wants to do without. This is likely to prick our conscience for eco-sustainable consumption.
I would suggest a discount for not having the room serviced daily, reusing towels, not having complimentary bottled water and reduced power and water consumption.
- Joseph Y. S. Ting
PIER REVIEW
Last year a group of us went on a cruise to New Zealand departing from Melbourne. We had a great time until we arrived back. On our arrival, the ship offered us a bus trip to the city for $10 a head or catch a taxi with a one to two-hour wait. We got our luggage and waited in line for well over one hour. Why do taxi drivers complain about waiting at the airport for one to two hours when they could get a quick fare at the pier?
- Tony Sammut
WE WELCOME YOUR TRAVEL-RELATED OPINIONS AND EXPERIENCES
The winner of the best letter published each week will receive a travel-friendly Logitech case+energy iPhone battery pack, valued at $120, which doubles the power of an iPhone battery. Letters may be edited for space, legal or other reasons. Email us at travellerletters@fairfaxmedia.com.au and include your name, address and phone number.