Traveller letters: Jetstar found my iPad, then lost it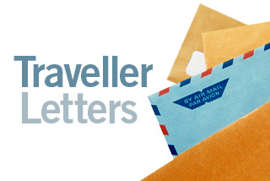 TECHNOLOGY VANISHED
After travelling back from Adelaide last October, when I arrived home I realised I had lost my iPad. Last month, while in New York, I received a phone call from the service desk at Jetstar, telling me they had found my iPad. I explained I would be home in two weeks and I was asked my name and was told to come to the service desk at Sydney's domestic airport where my iPad would be waiting.
I was overjoyed. Two weeks later, returning to Sydney, I called the service centre to say I would be coming in to collect my iPad. Alas, they could not find it but they would send an email around to see if anyone knew anything. So after many phone calls I decided to drive to the airport. I was told that I could not look at the iPads as they had so many and I was not permitted behind the desk. Now I have been told to go to lost and found. Lost and found have told me they dispose of goods after one month. So Jetstar, can you explain your filing system for lost property? Where do all the lost iPads go?
Leigh Cholakos
YUKON COUNT ON THEM
In early 2012, as part of our planned extensive trip to Canada, we booked and paid for accommodation at Dawson City Bed & Breakfast through the Klondike Visitors Association. Dawson City B&B was a sublime choice providing excellent accommodation, delightful hosts, and possibly the best breakfast we have ever eaten. Imagine our delight when we received an email from the Klondike Visitors Association last month to the effect that in error we had paid for our accommodation twice - once to the association and once to Dawson City Bed & Breakfast itself - and that the sum of $173.25 would be refunded. As promised the money was deposited to our credit card. We couldn't have asked for more.
Douglas and Daphne Howie
CLEAN STREETS
I must agree with Chris O'Rourke (Traveller Letters February 1-2). I spent three months house-sitting in Blenheim, in the South Island of New Zealand, last year and I found it to be clear of litter, graffiti, and virtually free of crime. And with no traffic lights, driving was a dream. The 30,000 people of Blenheim are clearly proud of their town.
Sue Burrough
RISK MANAGEMENT
It is fundamental to have the security of insurance when travelling. However, what should you do if you can't get it? After booking a six-week trip to the US with my family recently, my efforts to then attain cover for my pre-existing cardiac condition were largely futile. Despite the two years of good health insurers generally demand, without hospitalisation and leading an active lifestyle and completing a raft of questions which painted a mostly positive picture of my health, the online applications, one after another, determined me to be too much of a risk and refused cover. Eventually we left with only a general family policy. I returned from the US after a fantastic holiday and one without incident. I don't advocate putting the family home at risk but I also think that sometimes it pays to take a punt if you're confident in your health and know more than the computer algorithm.
James Cheeseman
WE WELCOME YOUR TRAVEL-RELATED OPINIONS AND EXPERIENCES
The winner of the best letter published each week will receive a travel-friendly Logitech case+energy iPhone battery pack, valued at $120, which doubles the power of an iPhone battery. Letters may be edited for space, legal or other reasons. Email us at travellerletters@fairfaxmedia.com.au and include your name, address and phone number.