Traveller Letters: we are ferry, ferry angry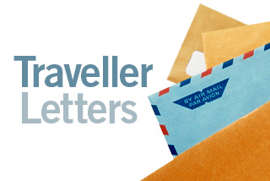 ROO THE DAY
All well and good, Jan Perry (Traveller Letters, January 11-12) but the reality of travelling in Australia is different. While planning a long-anticipated holiday to Kangaroo Island this year we booked our accommodation on KI at a very reasonable value-for-money rate. Our plans came unstuck when we sought to book the Sealink ferry to the island. The cost for two people and a car for the 45-minute voyage was exorbitant. It was much more expensive than we have paid for in Asia, US or Europe in terms of time, distance and value for money - so expensive that we had to cancel our accommodation and other travel arrangements from home to KI. The owners of the accommodation sent us a sympathetic letter and explained that the islanders are just as badly off when it comes to travelling to KI on Sealink.
-Geoff and Robyn Lewis
LETTER OF THE WEEK
It can be fun to try hard-earned language skills on understanding people when you're travelling. Fresh from a fortnight's German language refresher course in Munich recently - a retirement indulgence - I stepped up to a booth to buy two tickets for a day trip on the Rhine. "Sind sie ...?", asked the official (meaning "Are you ...?"). I said in my best German, "I'm sorry, I don't understand.""Sind sie senioren?" he replied, (meaning "Are you seniors?"). Then, before I could answer, he leaned forward confidentially, elbows on the counter and said: "Auf English - wrinklies!" ("In English - wrinklies."). I laughed. "Jah, wir sind wrinklies." ("Yes, we're wrinklies."). He laughed too - and I got our two tickets for half price.
-Bronwen Hickman
TAKE COVER
My husband and I were on our trip to Austria where he became very sick. He ended up in intensive care in a hospital in Vienna. I would warn all travellers to insure carefully. We were lucky to be with Covermore and found we were covered for the hospital, a hotel (for me), taxis and flights home with a male nurse to assist our return to Australia. We all tend to not want to pay high insurance, but ... read the fine print. Not only was the insurance company wonderful but also the Australian Embassy in Vienna, which was helpful and comforting.
-Diana Goetz
BLAME GAME
In response to Peter Downes (Fine Times, Traveller Letters, December 14-15), I suggest he take it up with the department that issued the infringement. It can source which car rental company provided his details and if it's provided via a statuary declaration (as done in Australia) then it's a false declaration. His passport is proof he wasn't in France at that time.
-Anne Bender
OH CANNY BOY
I had a chuckle reading Lee Tulloch's "Trends we regret" sidebar (Traveller, January 11-12). The advent of the high-tech hotel room hit us once in Germany. Reception sent up an Irish porter who said he hadn't been on staff at the hotel's re-opening and had missed the tech-training. He bumbled around for 10 minutes but he got there in the end. Typically Irish, engaging, humorous and wittily irreverent - the experience outshone the circumstance.
-Brian Jones