Traveller's Big Picture competition winner announced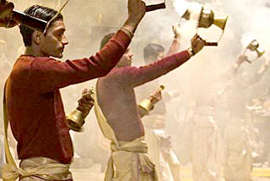 Alia Naughton is one step closer to her dream of becoming a professional photographer.
The 61-year-old retired piano teacher from Castle Hill in Sydney has won Traveller's Big Picture competition. Her photograph of a Hindu ceremony on the banks of the Ganges River in Varanasi caught the eyes and hearts of the competition's judges, who chose it from a massive 2500 entries collected throughout the year.
"When I got the call telling me I'd won, I was like a 15-year-old schoolgirl," says Mrs Naughton. "I guess that was a totally normal reaction, because nothing like this has ever happened to me before."
Mrs Naughton's prize, valued at approximately $18,500, includes two economy return flights to Abu Dhabi for her and her husband with Etihad Airways; four nights accommodation at Anantara's luxury Qasr Al Sarab Desert Resort; and tutoring by professional photographer Tony Amos, the competition's lead judge, during the trip. The work Mrs Naughton produces during the trip will also be published in a subsequent issue of Traveller.
"I used to think, 'who wants to see my holiday snaps?' But now I know they do," says Mrs Naughton, who only started taking photography seriously 10 years ago, becoming a member of a photography club, taking photography trips, and this year receiving her licentiate honours in audio-visual making.
Her winning photograph was taken during a 24-day journey to India last year, where she and her husband travelled through Delhi, Jaipur, Udaipur, Agra, Kerala and, of course, Varanasi. She took a "mountain of photos" throughout the trip, but chose this particular image because "it was just dreamy".
"We got onto a boat one evening to see this nightly performance, I had the photo I wanted in my head but from the boat it just wasn't going to happen."
Desperate to make the shot happen, she had their private guide take her back there the following evening. "He knew all the back streets of Varanasi, we wove through them and got down to where the ceremony was." It was then that she found her prime position right beside the performers.
"I loved the moment of the incense in the air, the profile of the men, the look on their faces, the costumes and everyone waving their hands in the air. The image speaks to me of mystique," she says.
"It's a pity you can't hear this photo because the sound coming from the bells and the music really added to the atmosphere and the moment."
For judge Tony Amos - who has been shooting professionally in Australia and internationally for over 25 years and has worked for titles including Harper's Bazaar, Vogue and Gourmet Traveller - Mrs Naughton's image stood out for a combination of reasons.
"This image showed solid technical proficiency, subtlety of presentation, an instinct for how to put the viewer in the thick of things and determination in returning a second day to capture the right image," he says.
Mrs Naughton and her husband have spent the past decade travelling the world, visiting Canada, Alaska, Vietnam, China, Egypt, Turkey and Ireland along the way. She counts shooting the aurora borealis and the terracotta warriors in China among her top travel photography moments. In just a few months, she says, she'll be adding the deserts of Abu Dhabi to that list.
"Even though it's just sand, you can get beautiful photographs with deserts, especially at dawn and sunset. I'm hoping I might see some strings of wild camels out there, too."