2017 Nissan Armada Handles Like a Boat, With a Very Retro Feel

Consumer Reports
2017-01-26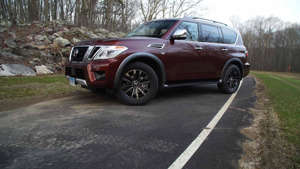 Nissan has rolled out its first sequel to the Armada since the large, three-row SUV was introduced 13 years ago. But this second-gen model is very much a clone of the Infiniti QX80 that's been on sale since 2010.
The Armada's price, however, starts significantly lower than the Infiniti's, coming in at $44,400 compared with the Infiniti's starting price of $63,250. We just bought a top-trim Armada Platinum for $63,020.
Clearly, this is an old-school, body-on-frame, lumbering truck that's lavishly outfitted to attract suburban soccer moms. But calling it "new" is a bit misleading.
The Armada is part of Nissan's flotilla of vehicles offered worldwide. In the U.S., it's aimed squarely at the high-end, large SUV segment, where it battles domestic mainstays such as the Chevrolet Tahoe and Ford Expedition, as well as the Toyota Sequoia.
Those are all truck-based SUVs that lack the smooth ride and handling of a modern SUV. The original Armada was also based on a pickup truck, Nissan's previous generation Titan. But the new Armada is actually a version of the Nissan Patrol SUV, an overseas model that's Nissan's answer to the iconic Toyota Land Cruiser.
Both have served in the world's toughest environments and are favorites of U.N. peacekeepers as well as some nefarious organizations.
Needless to say, this is a vehicle designed for off-roading. Some American customers might be drawn to its generous 8,500-pound towing capacity and three-row seating.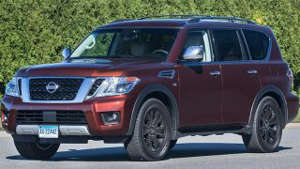 At first, it seems like the Armada is plush and luxurious by virtue of its soft suspension, effortless V8 punch, and a cabin that's coated with leather and wood.
Indeed, the 390-hp, 5.6-liter V8 endows the SUV with a smooth, muscular launch and right-now responsiveness. The seven-speed automatic is well-matched to the engine and executes unobtrusive shifts. The price for this slick powertrain is 15 mpg overall, as rated by the Environmental Protection Agency.
The fully independent suspension absorbs bumps commendably, but it doesn't take too long to experience the jostle that comes with this setup. Any uneven road surfaces or undulations elicit frequent motions reminiscent of a battleship. To its credit, the cabin remains quiet.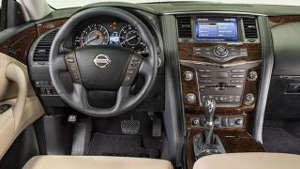 We rarely expect sporty handling with a large SUV, but even in the realm of such giants, the Armada's cornering feels more like a bloated land yacht than a speedboat.
There's considerable body roll and the steering is slow, requiring quite a bit of twirling before the bow gets the command and is pointed on the right course. This ponderous trait makes you consciously slow down before entering corners.
Our Armada has the 2+2+3 seating configuration, meaning it has captain's chairs for the second row and seats for three in the split-folding, third-row bench.
Rear passengers have their own air conditioning ducts and two individual video screens—nice upscale touches. But the entire cabin has only one USB port, located in the front, for charging. Each section of the third-row seat folds with a press of a button.
The dashboard has wood inlays and nicely tailored stitching, which make for a luxurious ambience. Lots of buttons are strewn throughout, and the large center infotainment screen is far away. The overall feel for the controls is decidedly retro.  
The Armada is a tall vehicle, so while no gangway is needed to get in and out, the running boards can help those of modest stature. The view from the large seats is commanding. The leather driver's seat has only a two-way power lumbar adjustment, which is stingy at this price.
Among other things, the Platinum comes with active cruise control, automatic emergency braking, lane-departure warning and prevention, and blind-spot monitoring.
The car comes across as a dinosaur by virtue of its body-on-frame construction, lumbering handling, jostling ride, button-intensive cockpit layout, and appetite for fuel. But the Armada is plush and powerful, and it can tow a big boat or a camper.
Update: Read the complete Nissan Armada road test.
Note: This review contains U.S. spec information, for Canadian information please click here.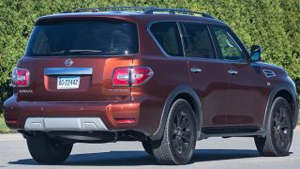 Consumer Reports has no relationship with any advertisers on this website. Copyright © 2006-2017 Consumers Union of U.S.