Real racers do it on the track ...

By Jeremy Sinek, MSN Autos
of Microsoft IES
|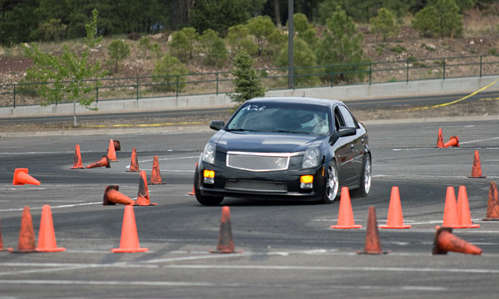 Paved parking lot plus pylons = AutoSlalom
Want to push yourself and your car to the limit? AutoSlaloms are a safe and affordable start. The venue is usually a large, empty paved parking lot where a temporary course is laid out with pylons. Competitors run one car at a time against the clock. Each time you hit a pylon, a penalty of one or two seconds is added to your time.By necessity the courses are usually tight and technical, with the emphasis on threshold braking and precise, tight lines through the curves. By the same token, speeds are relatively low and spin-outs are harmless because there's nothing there to hit. You typically get five or six runs through the day, and your best time counts.You'll need an approved crash helmet, a vehicle that is basically roadworthy, and of course a driver's licence. In some regions a competition licence may be required, but you can usually acquire it at the event on the day.Various classes cater to everything from completely stock to highly modified cars. If you compete in your daily driver, though, you may want to at least splash for a separate set of wheels and rims, as tires can get pretty chewed up after a few "hot" runs. And besides, if the competitive bug bites, high-performance rubber is the single best route to faster times.
© Microsoft