The Scary Truth about New Cars

Unhaggle
2016-02-24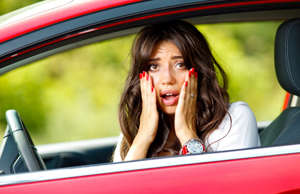 While shiny new paint and that famous new car smell might entice consumers into buying new cars, the purchase of a new car doesn't come without drawbacks. Read below to learn about the scary truth about new cars.
What's Wrong with Buying a New Car?
Nothing – in fact consumers who buy new cars can benefit from a number of convenience factors including bumper-to-bumper warranties (more on manufacturer warranties here), the latest in-vehicle technology features and the ability to custom-order their cars from the manufacturer. That being said, these convenience factors come at a price.
The scary truth about new cars is that they all come with an invisible cost: depreciation. A new car begins to depreciate the very moment it drives off the lot, and what's even more alarming is that the average vehicle loses 35.7 per cent of its initial value within its first year of ownership (Canadian Black Book). This translates into a large "invisible" cost for most consumers, as many neglect the high cost of depreciation when purchasing their new car - only to be faced with a brutal reality when it's time to resell it.
Here's a table that shows the scary reality of new car depreciation:
                                                   2016 Buick Lacrosse Premium 1    2016 Ford Flex SEL FWD
MSRP (includes Freight, PDI, Taxes)

$47,375

$44,010

Residual Value (after 24 months)

40% (assuming 24,000 kms/year)

41% (assuming 25,000 kms/year)

Resale Value After 24 months

$18,950

$18,044

Amount Lost to Depreciation (24 months)

$28,425

$25,966
Does this mean I should buy a used vehicle?
Consumers who are looking to avoid high depreciation costs may opt for a used vehicle, and while it's true that most used vehicles can be purchased at sizeable discounts (with respect to their new vehicle counterparts), this is only partially due to past depreciation. With the purchase of a used vehicle comes its own set of drawbacks.
It's important to consider that the majority of used vehicles come without warranties, and are sold "AS-IS." This means that used car buyers have to take a huge leap of faith in the vehicle's condition, service history, as well as the seller's integrity. (We would recommend investing in a pre-purchase inspection to offset some of the uncertainty). Purchasing a lemon or a vehicle that was improperly maintained can translate into large, unanticipated repair bills; one of the many reasons for which used cars are sold at a discount.
Used vehicles also lack the ability to be customized which means that they don't necessarily have all the features you're looking for. What's more is that used vehicles are rarely equipped with the same gizmos and gadgets as new vehicles, as manufacturers try to incorporate tech upgrades into their cars every year in order to stay competitive. Additionally, if you're looking to finance your used vehicle, you might be surprised to learn that most vehicles over five years of age are not eligible for financing; putting many used cars out of reach for most buyers.
Is there another alternative?
So far, we've determined that new vehicles and used vehicles both come with independent benefits and drawbacks, but neither is a better alternative to the other.
Certified Pre-Owned vehicles, however, are offered by most new car dealerships and are alternatives which are commonly overlooked by car shoppers. Certified Pre-Owned, or "CPO" vehicles offer many benefits which are associated to new cars, including extended warranties and the ability to finance at low interest rates. What's more is that the average CPO vehicle is two to four years old, and has already undergone the period of high depreciation and can be purchased at a discount in comparison to an equivalent new vehicle. While CPO vehicles tend to warrant a price premium over their "uncertified used" counterparts, these vehicles offer a good alternative to consumers looking for a balance of good value and peace of mind. 
Trending video: Consumer Reports 2016 Top Car Picks