Prince Harry and Meghan Markle land new Commonwealth roles

Now To Love
2018-04-17
© Provided by Bauer Media Pty Ltd Pointing out there bright future together! Harry and Meghan, who will soon exchange vows, will work together to give young people a voice through their new roles.

Prince Harry has delivered his first speech since being appointed as Commonwealth Youth Ambassador -- an important new role, which will see the soon-to-be-married royal work to create links between young people and leaders and help them address social, environmental and economic challenges around the world.

Speaking at the opening of the Commonwealth Youth Forum on Monday, Harry -- everybody's favourite ginger-haired royal -- said he was "incredibly grateful" to bride-to-be Meghan Markle who will also be joining him in the exciting (and busy!) new position.
"In my new role, I will work to support The Queen, my father The Prince of Wales, and my brother William, all of whom know that young people are the answer to the challenges of today," the 33-year-old said, in his first address since being appointed to the position by his grandmother Queen Elizabeth II.
"I am also incredibly grateful that the woman I am about to marry, Meghan, will be joining me in this work, of which she too is hugely excited to take part in."
It hasn't yet been announced what her official title might be.
He also said he would take inspiration from his grandmother, looking to the beloved monarch as the "ultimate source of guidance on all things Commonwealth."
"On the day of her 21st birthday, the then-Princess Elizabeth gave an extraordinary radio address from Cape Town. With an eye on the future, and an already unflinching sense of duty, she made a commitment," he told the delegates. "She said that whether her life be long or short, it would be dedicated to the service of the people of the Commonwealth."
"From that speech in 1947 onwards, she has known that young people really make the difference," he continued. "Her call to action was for her fellow young people to lead the way in making the Commonwealth a 'more free, more prosperous, more happy and a more powerful influence for good in the world.'"
The major new job title could mean the royal couple will need to spend a lot more time down under -- and we're certainly not complaining about that!
Harry and Meghan, who are set to exchange vows on May 19, will visit Sydney later this year. The loved-up couple will be making the trip to our great southern land for the 2018 Invictus Games.
Although it hasn't been announced in an official capacity via Kensington Palace, the former Suits actress revealed the exciting news earlier this months during an outing with Harry in Bath, England at the UK team trials for the Sydney Invictus Games.
Also see: Royal rules Meghan Markle is expected to follow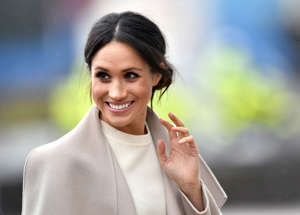 During a conversation with athlete player Michael Mellon, who competed in sitting volleyball and wheelchair basketball at the Games last year, Meghan accidentally let slip the upcoming trip.
"She told me she had never been to Australia but was going to this year's event and really looking forward to being there with Harry," Michael revealed to royal reporter Omid Scobie.
It's expected to be the 36-year-old's first overseas tour as an official royal family member.
Australia holds a special place in Harry's heart after he spent his 2003 gap year in the outback and in 2015, his charm offensive wooed the nation yet again as he embarked on a month-long secondment with the Australian Defence Force.
Just last year, Harry jetted to Sydney for a whirlwind trip to launch the Invictus Games Down Under and we have no doubt the soon-to-be husband can't wait to bring his wife back and show her the magic of our country.
The 2018 Invictus Games commence on the 18th of October and go until the 29th.
Bring on October!