New York pizza festival dubbed 'the new Fyre Fest' after charging $69 for tiny slices and paper plates

The Independent
2017-09-13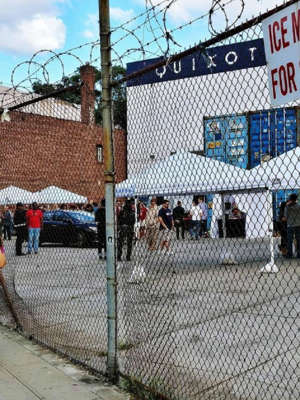 © Provided by Independent Print Limited You would think that New York City is the one place pizza fans can depend on to deliver the goods.
On the glorious isle of Manhattan there are as many pizza joints as there are Starbucks.
A "slice" is practically an entire pizza in itself, you can buy one at any hour of the night and the street drains practically precipitate mozzarella.
Alas, such fanfare couldn't prevent the epic failure of The NYC Pizza Festival, which disgruntled ticketholders are calling "the new Fyre Fest."
Held in Brooklyn's trendy Bushwick neighbourhood, attendees paid up to $69 (£52) for what had been sold as an event with "unlimited pizza samples," drinks and entertainment.

The event was described as "an eclectic tasting of the best pizza in NYC" with toppings "for taste buds of all types" on its Facebook page.
However, the reality was a far more tragic affair, consisting of paper plates, polyester table cloths and pizza slices tiny enough to make a grown man shed a tear of dough-deprived melancholy.

Imagine a terrible children's birthday party – clowns, tantrums and a huddle of adults desperately seeking liquor - but with a tighter budget.
The night before the dreaded event, organisers took to the event's Facebook page to explain that they'd been hit with "an incredible amount of delays" in pizza deliveries and asked potential attendees not to come.
Fyi, there are over 360 pizza joints in the city.
© Provided by Independent Print Limited Those who managed to get in to the venue were served the saddest slices of pizza you ever did see, whilst mulling around a few white tents to the feeble beats of a lone wolf DJ.
Forget FOMO, those who boycotted the event experienced a serious case of JOMO (joy of missing out, obvs).
Naturally, peeved ticket holders took to social media to vent their frustrations, which has surmounted to a tirade of abuse littering the event's Facebook page.
"COMPLETE SCAM! Believe this we will be getting our money back," wrote one.
"We were so disappointed to see only four white tents like really that's it??? Never again," another added.
Many have also been demanding refunds, though it's unclear as to whether or not these will be issued.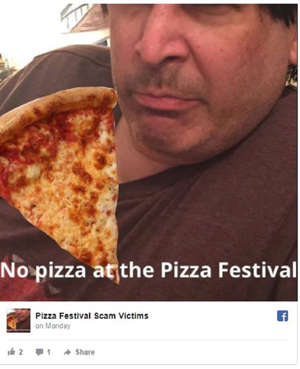 A Facebook support group has even been created for "Pizza Festival Scam Victims," whose 27 members intend to build a lawsuit against the festival.
One attendee who had paid $150 (£113) for a pair of VIP tickets told Gothamist, "It was like the people from Fyre Festival decided to throw a pizza party."
Related: How to Make BBQ Chicken and Blue Cheese Pizza (Cooking Light)