Couple Engaged After Losing 600 Pounds Together

Cosmopolitan
2017-05-19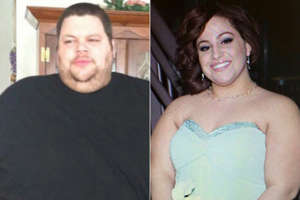 © Associated Press Andrea Masella first started crushing on Ronnie Brower after seeing him repeatedly at the gym in 2013, she told the Associated Press. Since then, they've lost a combined 578 pounds. They're also getting married on Saturday in their hometown of Syracuse, New York.
"I was just really inspired by him and I thought he was super cute," Masella, 24, said of how they met. "We started talking at the gym and I hate to sound cliche but it was love at first sight."
Watch: Lose Fat With This 10-Minute HIIT Workout (by PopSugar)
"I was depressed, addicted to pills and alcohol, eating 10 double cheeseburgers or two large pizzas at a time," Brower said. Things changed for him after his first date with Masella, which was a ping-pong and basketball date at the gym. "Both of us had used food as a coping mechanism; I would just eat my feelings," she added. "We've gone through a lot of counseling to come to terms with that and change."
© Ronnie Brower via AP Photo Brower's personal trainer will serve as his best man at their wedding this weekend. He calls Brower and Masella "a match made in heaven, a storybook movie."
Related: Dramatic weight loss celebrities