Kristen Bell Shares the Unexpected Trip That Changed Her Marriage for the Better

People
2017-10-07
The trip that had the biggest impact on Kristen Bell wasn't an epic nature trek or a visit to a spiritual site. It was a visit to "the Mitten," where she grew up.
Bell, 37, planned a simple trip to her home state of Michigan with her husband, Dax Shepard, 42, and their daughters, Lincoln, 4, and Delta, 2, that ended up having a big impact on her marriage and her feelings about going home, she says in the fall/winter issue of Airbnb magazine.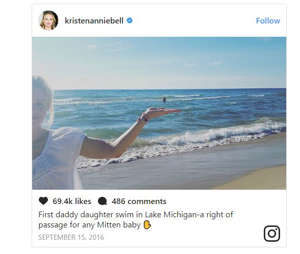 More importantly, however, Bell says she and Shepard, who've been open about their relationship's "volatile" start and the importance of therapy in their marriage, got closer to one another.
"I learned more about my husband as we both shared stories about things we did growing up," Bell writes. So it's no surprise, she notes, the experience is one worth repeating: "We've decided to go home, at least for a week, to a Michigan lake every year."
Read the full story in the fall/winter issue Airbnb magazine, on newsstands now.