Our 15 Best Roast Chicken Tips All in One Place

Food52
2017-02-15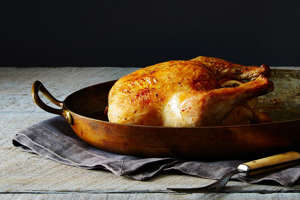 Barbara Kafka's Simplest Roast Chicken by Genius Recipes
Quick: What are you making for dinner tonight? Is it roast chicken? What a lucky guess on our part! That's the power of persuasion of an inimitable, classic dish.
Since roast chicken is such a staple, you probably already have a go-to recipe that's good as it is. But sometimes, perhaps you'd like to take your bird from good to really, really good? That's where we come in.
Below are our 15 best roast chicken tips. As they say, get roasting (does no one say this yet?).
Roasting chicken at 500° F, untrussed, for about 10 minutes per pound results in a juicy, speedy bird.
Put the chicken in the oven bum-first so the slower-cooking legs are closer to the heat.
Bathe chicken in milk for tender, pull-off-the-bone meat and, to boot, a flavorful sauce without any extra work.
Brine chicken in coffee to wake it up infuse the chicken with smoky flavor.
For extra crispy skin, pat chicken dry inside and out, then leave it in the fridge uncovered overnight.
If you let chicken hang out for a couple days covered in a heady spice mix, you'll be rewarded with very crispy skin (Is it fried? No!) and tender meat.
If you're in a time crunch, cut your chicken into pieces and go about roasting (using chicken stock and wine to keep the bird moist).
A combination of butter and olive oil (and a lot of both) for basting and roasting seems like it just might be too much. It's not. It yields unabashedly rich flavor.
For chicken cooked in record time, spatchcock it (that is, take out the backbone). This way, the white meat and legs will cook at the same rate.
Use the chicken's pan juices to saturate and flavor croutons.
As the recipe's name suggests, stuffing basil and garlic purée underneath the skin will result in one of those "what flavor!" moments you'll wish you'd done before.
Cooking chicken upright in a tube pan (yes, like the one you use for cake) serves two purposes: You don't have to turn it and you'll get crispy skin all over.
Add some unpeeled garlic cloves to the pan alongside your roasting chicken. When the meat is done, you'll have roasted garlic cloves you can mash into your pan sauce.
Roast chicken on a bed of bread. The bread absorbs all the chicken juices. Enough said.
The paper bag locks in moisture and cooks the chicken evenly.
Have a favorite roast chicken tip? Tell us about it in the comments.