The very sweet reason Prince Harry gifted Princess Diana's ring to Kate Middleton

Mamamia
2018-12-14
© getty Princess Diana and Catherine Duchess of Cambridge wearing the same engagement ring.

To keep up to date with all things to do with the royal family, check out our royal hub. It's a blast.
When Princess Diana passed away in 1997, her sons Prince William and Prince Harry were able to select items from her jewellery collection to remember her with.
According to Diana's butler Paul Burrell, who told the story in the documentary The Diana Story, William picked out his mother's Cartier watch, a gift from her father for her 21st birthday.
Harry selected his mother's sapphire engagement ring but as we know, that ring ended up on the finger of his sister-in-law Kate Middleton following her engagement to William in 2010.
Now, William and Kate were engaged well before Harry and his now-wife Meghan Markle - but the reason Kate was gifted the ring is not just down to timing.
Also see: Every time Duchess Kate has worn Princess Diana's favourite Tiara (Provided by US Weekly)
Burrell said it was a conversation between the brothers before William proposed that saw Harry gift the ring to Wills and Kate.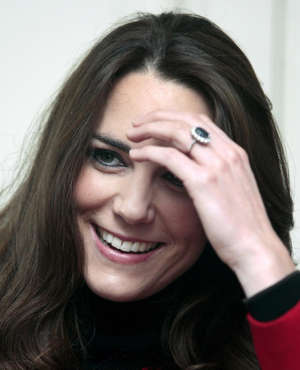 © Getty Kate Middleton. "Harry said to him 'Wouldn't it be fitting if she had mummy's ring?'" Burrell said. "Then one day that ring will be sat on the throne of England."
"Harry gave up his precious treasure. His one thing he kept from his mother, he gave to his brother. That's selfless, kind, and exactly who Diana was."
Also watch: Royal insiders reveal Meghan Markle has a sweet Princess Diana-related nickname: Report (Provided by Buzz60)
When Harry and Meghan became engaged last year, Harry presented her with a ring he designed himself, using an ethically-sourced centre diamond from Botswana, where he and Meghan first went on holiday.
According to the Duke and Duchess of Sussex's official engagement interview, the ring was designed by Cleave and Company, with the centre diamond is flanked by two diamonds from a brooch that belonged to Diana.
"The little diamonds on either side are from my mother's jewellery collection to make sure that she's with us on this crazy journey together," he said of his decision to include them.
So sweet. 
Related Video: All the Members of the British Royal Family, Ranked by Net Worth (Provided by Time)