The TSX May Be Off to Its Best Start Since 1980, but These 3 Stocks Continue to Beat the Market

The Motley Fool
2019-01-20
The TSX Index, Canada's benchmark for publicly traded securities, is off to its best start since 1980, including an eleven-day winning streak as of Friday's close.
That's all well and good, but these three stocks have fared even better, outperforming the TSX by a considerable margin since the year began.
Canopy Growth Corp (TSX:WEED)(NYSE:CGC)
Shares in Canada's largest licensed cannabis producer have continued to soar into the new year, up a whopping 57% since the start of January.
WEED stock remains below its all-time high of $76.88 reached just one day before recreational cannabis became legal in Canada, but got a nice boost last week after it inked a deal with New York state officials to legally produce hemp, a month after President Donald Trump signed the U.S. Farm Bill into law, legalizing hemp.
Canopy has plans to invest somewhere between US$100 to as much as $150 million toward a production facility in New York state, which will be its very first extraction and processing facility outside Canada's borders.
Enbridge Inc (TSX:ENB)(NYSE:ENB)
Enbridge stock is up nearly 13% so far in January versus the TSX Index, which has posted a 6.83% gain thus far in January.
Enbridge stock now sits just a loonie or two below its 52-week highs.
Shares are yielding investors a 6.16% annual dividend, and with management already on record with plans to significantly increase that payout over the next couple of years, not only is Enbridge a solid high yield play for income investors and retirees, but it's also an extremely strong candidate as a dividend growth investment for younger investors looking to take advantage of the power of compounded interest.
However given the extent of January's move in light of the historical volatility that ENB has tended to exhibit, investors may want to give this one a little space and look for a pull back before initiating a position.
Cronos Group Inc (TSX:CRON)(NASDAQ:CRON)
It seems that everybody and their brother has already heard about Canopy Growth by now, but Cronos is as strong a candidate as any to become a leader in several key international markets.
At this point it's looking more and more like cannabis investments are becoming the long man's game. Although Canopy may have been the first to swing, it remains to be seen whether it won't be a company like Cronos standing tall when all is said and done.
Shares in Cronos Group are up a little over 37% through the first three weeks of trading in January.
Amazon CEO Shocks Bay Street Investors By Predicting Company "Will Go Bankrupt"
Amazon CEO Jeff Bezos recently warned investors that "Amazon will be disrupted one day" and eventually "will go bankrupt."
What might be even more alarming is that Bezos has been dumping roughly $1 billion worth of Amazon stock every year…
But Bezos isn't just cashing out, he's reinvesting his money into a company utilizing a fast-emerging technology that he believes will "improve every business."
In fact, this tech opportunity could be bigger than bigger than Amazon, Tesla, and Berkshire Hathaway combined.
Get the full scoop on this opportunity that has billionaire investors like Bezos convinced – before it's too late…
More reading
Fool contributor Jason Phillips has no position in any of the stocks mentioned.  Enbridge is a recommendation of Stock Advisor Canada.
More from The Motley Fool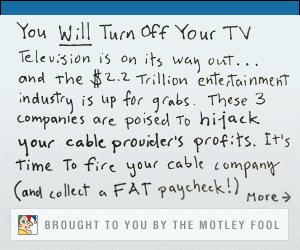 The Motley Fool
XD Load Error