What better way to welcome spring than with a snowfall warning?

cbc.ca
2017-03-20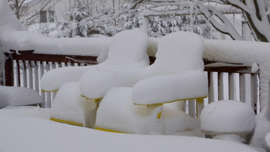 Snow and rainfall warnings are in effect for much of Newfoundland this morning, with Environment Canada predicting around 20 centimetres of snow on the first day of spring.
In St. John's and the metro area, schools will be closing three hours early. Some other schools have closed for the morning, with updates expected later on in the day. Other schools are closing for the full day.
Environment Canada says snow along the south coast of the island will start this morning and continue throughout the day, spreading northeast.
Snowfall amounts between 15 and 25 centimetres are expected in Terra Nova, Burgeo, Connaigre, Clarenville, northern Avalon and the Burin Peninsula.
Most areas can expect mixes of freezing rain or ice pellets before switching over to rain in the evening.
The rain is expected to continue until Tuesday night, and rainfall warnings are also in effect for parts of the south coast and southern Avalon Peninsula.
This combination of weather will make for significant snow melt and pooling water.
In the Port aux Basques area, a Wreckhouse wind warning is also in effect, with gusts expected around 100 km/h Monday afternoon.
The same weather system will affect the central Newfoundland region, from the Humber Valley through Bonavista north, but Environment Canada does not have a warning in effect for those areas.
In the Gander and northern Bonavista area, as well as St. John's, snowfall between 10 and 15 centimetres will fall between Monday morning and evening. From Grand Falls-Windsor to the Bay of Exploits, accumulation will be around two to five centimetres.