'Worst I've ever seen': Crown seeks dangerous offender status in Sask. child porn case

cbc.ca
2017-06-10
The Crown will be seeking dangerous offender status for a man deemed one of the worst child pornography offenders in Saskatchewan history.
Shane Pattison, 27, pleaded guilty to 42 counts of child pornography distribution Friday at Saskatoon's Court of Queen's Bench.
Crown prosecutor Lana Morelli read the facts of the case in court, as well as a sample of the horrific images and video. After roughly 15 minutes, she asked Justice Richard Danyliuk if he required her to continue. Danyliuk said there was no need.
"I have more than a representative sample," he said.
'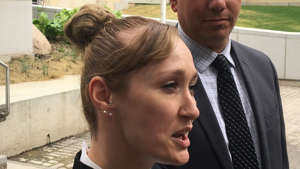 © Jason Warick Crown prosecutor Lana Morelli will seek dangerous offender status for Shane Pattison when the case resumes in July.
The worst I've ever seen'
In 2015, Pattison had just finished serving the longest sentence in the province's history for distributing child porn, when he was at it again.
Officers arrested him at a shelter. He had a laptop open to child pornography hidden on his lap under a blanket. He also had multiple cellphones and flash drives.
Police seized more than 4,000 unique images and videos. Veteran investigator Det. Sgt. Darren Parisien said the case is "the worst I've ever seen."
Police around the world have opened more than 1,300 other investigations because of information gleaned from Pattison's computers.
"That's not even all of them," Parisien said. "Wherever there are children, there are people who want to abuse them."
Defence believes Pattison can change
Morelli said they will seek dangerous offender status for Pattison when the case resumes July 19.
"The Crown wants to ensure the safety of the public," Morelli said.
Pattison's lawyer, Brian Pfefferle, said he'd favour a sentence of seven years. That would make it the longest sentence for "non-touching" child pornography and give Pattison access to extensive programming.
Pfefferle said Pattison is still in his 20s and believes there's a chance he could change with proper supports.
The defence lawyer noted Pattison received little programming during his first sentence. Offenders who are not convicted of physical offences receive lower priority, he said. In the cases of child pornography, he said that needs to change.
According to Morelli, Pattison told police he "wants them to catch the guys he's chatting with." Pattison also told police that "if he has access to devices, he cannot control himself."
Parisien doubts Pattison can change. He said Pattison's pattern shows someone with an uncontrollable compulsion. Parisien said he sees many child porn viewers and distributors graduate to physical offences.
"It happens all the time," he said.
Pattison previously served time for child porn
In 2012, when he was 21 years old, Pattison pleaded guilty to 53 charges that included possession, distribution and production of child pornography.
Pattison lived with his parents in the small town of Marshall, Sask., near Lloydminster. He had collected and shared more than 4,000 photos and videos that showed violent sexual abuse of young girls.
The collection also included an instruction manual on how to sexually abuse children.
He had been sharing his collection with more than 400 people online. The investigation led to the rescue of four children in the United States and British Columbia.
Pattison was denied day and full parole in January 2014. His statutory release date, after serving two-thirds of his sentence, was in September 2015.