Hurricane Jose continues its weird loop in the Atlantic

The Boston Globe
2017-09-13
While recovery efforts continue from devastating Hurricanes Harvey and Irma, Hurricane Jose continues to dawdle in the Atlantic, making its unusual loop. Its ultimate path is uncertain, but it still bears watching, an expert said.
Five days from now, Jose is expected to have completed its loop and be 400 miles off Wrightsville Beach, N.C., with winds blowing at a modest 70 miles per hour (below the 74-mile-per-hour hurricane threshold).
"It's just not known" with any degree of certainty where Jose will go past that 5-day window, said National Hurricane Center spokesman.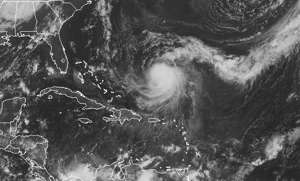 "The computer models are not exactly in agreement," he said.
"Right now, there's no immediate concern. For the next five days, it's not a threat to the United States," he said. But he also said, "Any time you've got a tropical cyclone in the Atlantic, you should be watching it."
Some models suggest that the storm could actually push farther to the west, the centre said in a discussion posted to the internet.
And what direction the storm takes after five days will be crucial. The East Coast lies to the east of the storm and New England to the north. However, many storms curve northwest into the open ocean.
As of 11 a.m. Wednesday, Jose was backtracking southeastward at 7 miles per hour with 75-mile-per-hour winds, but it's expected to finish its loop in the next 48 hours, forecasters said in the discussion.