The Bold and the Beautiful's motorcycle bride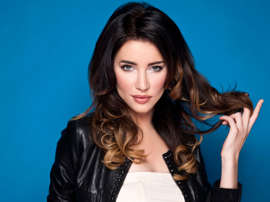 Weddings on most shows are always a big deal – but a wedding on The Bold and the Beautiful is pretty much a monthly guarantee. So what sets this current wedding between young loves Steffy Forrester and Liam Spencer apart? Well, the beautiful bride speeds down the aisle aboard a motorcycle, stunning her groom and wedding party. Canadian actress Jacqueline MacInnes Wood, who plays Steffy, spoke to MSN from the L.A. set to talk about stunt on her own motorcycle, what's so special about Liam and how much she misses her former co-stars Ronn Moss and Susan Flannery.
 
Steffy didn't just walk down the aisle – err driveway, she rode down on a motorcycle in a very sexy black outfit.
Yes, she definitely wanted to do something different! When I read the scripts and found out this was going to happen, I was game for it! I do ride a motorcycle in real life so when Brad [Bell, executive producer and head writer] came up with the idea, I was all for it. It was a great day of shooting.
It was very well done. You performed the stunt yourself! How many takes did it take?
We probably did it 12 to 15 times, just because of the different camera angles – to see what worked and what didn't. We even tried to put a camera on the bike. It was Brad's mother's place where we filmed [Lee Bell, who also created the soap along with husband Bill Bell]. The driveway is cobble stone and there are a lot of twist and turns, so it had to be absolutely correct. I started on an incline and luckily I had two guys at the bottom of the hill there for me to hold my bike just in case!

So no stunt double at all. That's pretty impressive.
It was all me! I've had stunt doubles in the past and they even asked, but there's only so much you can do with a stunt double without a helmet for so long! I told Brad that I might as well just do this [myself]. It was very easy for me because it was my bike. They were going to bring in a bike, but I told them I'd be more comfortable with my own. "I ride it all the time, so let's just do it [with mine]!"

That was some entrance. I think it'll go down as one of my favourite B&B wedding moments…of course, right along with "I now pronounce you man and – horse!"
[Laughs] Yeah, that was a fun one! I was really excited about this and it was something that Brad had never done before.

It seemed that Hope was planning on crashing the wedding after Friday's episode.
It's in the back of Steffy's mind that Hope is going to show up. Fingers crossed that she doesn't and ruin this wonderful moment that Steffy's having. But I do think it's all going to work out in Steffy's favour.
I think that will go down as one of my favourite wedding moments from The Bold and the Beautiful. Of course, right along with "I now pronounce you man and – horse!"
[Laughs] Yeah, that was a fun one. I was really excited and it was something that Brad said he had never done before.
Hope's (Kim Matula) planning on crashing the wedding. What can you share with us about that?
It's great for Steffy because it's their first wedding where it was planned as two normal people who wanted a wedding. There were fun things like the black and the motorcycle, but it's in the back of Steffy's mind that Hope's going to show up. Fingers crossed that she doesn't and ruin this wonderful moment that Steffy's having but I think that it's all going to work out in Steffy's favour.

What's the deal with Liam? He's got these two smart women fighting over him. He must lay some serious pipe.
I know! I make fun of Scott [Clifton, who plays Liam] all the time! I'm like "Wow! You've got something…" Maybe it's a little R-rated, but come on! What's happening there? [Laughs]
There are a lot of good looking men in L.A., but Steffy and Hope just want Liam. I think it's an ego thing for the both of them but I do feel that they have this connection to him. Liam brings something out and Steffy. He's perfect in Steffy's eyes. He tells her how he feels, he's honest and true. She has fun with him. I think that's the reason why she wants to keep the relationship going [despite Hope's interfering].
This triangle has been happening for so long, so there's that history there now.

Steffy is also having Liam's baby. How do you see having a baby will change Steffy? We'd hate to see her lose her edge because of motherhood.
I think that Steffy has always thought about herself. She was always in the moment and spontaneous – like most people do who always think for themselves. But then they have a child and they themselves become secondary. Listening to some other actresses on set who are new mothers like Heather Tom (who plays Katie) and Jennifer Gareis (who plays Donna), you become secondary to how the baby feels. When Steffy becomes a mom, she'll have to take care of this child.
I do think that her edge is going to be there, but her baby comes first at the end of the day.

We'd hate to see the dynamic between Hope (the saint) and Steffy (the vixen) to change.
It's really fun to play this and I really like where it's going, storyline-wise. There's a lot of fun stuff coming up.
This past year was a big year for The Bold and the Beautiful. Ronn Moss (who played Steffy's father, Ridge) quit and Susan Flannery (Steffy's grandmother, Stephanie) retired. Viewers can obviously see the big void that was left by them but what's it like on set? No doubt you were very close to both actors.
Oh absolutely! It was kind of a blow when I found out that Ronn was leaving just because it happened so quickly. Not a lot of people knew about it. It was tough because I love Ronn and I loved being around him. We're very close. Had had been on the show for 26 years and it was time for another chapter in his life – so he wanted to pursue other things and relax a little bit. We film a lot of dialogue on our show and I can't imagine the countless pages of dialogue he was filming. Sometimes, after doing that for 25 or 26 years, you just want a break to try different things. So, I'm completely supportive of that. I would obviously love to work with him again – and, you never know what's going to happen.
The same with Susan Flannery – she was doing all these challenging scenes and she's just a phenomenal actress. I will always miss that. She was so much fun to spar with. She taught me so much. She's another person who I'm close with. The time came for her, we kind of knew that was the plan. We had known for a few months that she was planning on retiring.
I wish them both all the best!

Viewers loved the dynamic between Steffy and her namesake.
I loved that! I miss her. I remember when I just started working on the soap and I was just absolutely terrified of her because she was so intimidating and would just give you that look and you're like "Oh no! I don't know if she loves me or hates me!" We just kind of clicked after our first scenes and she's always challenged me as an actor. She's just brilliant.

Without Ridge and Stephanie, it's brought Taylor together with Eric – the grandfather of her children!
There's soap world and then there's reality. There's a fine line in between where they both have to work and seem normal. We shoot so quickly so we don't have time to dissect these scenes as much as you would like to. Stephanie had just passed away and me, as an actor, I was like "Woah, woah woah – Steffy and Stephanie were super close and Stephanie would not be okay with this!" But because the show moves so quickly, you kind of have to step out as an actor and think about how you are going to make this work. Life is twisted and people are twisted in real life, even though we don't want to say it – they are. You see people fall in love with people they shouldn't…at the end of the day, Steffy just wants Taylor and Eric to be happy. Obviously, there are those moments where Steffy thinks "I'm not 100% okay with this, but I want my mom to be happy and I feel that Stephanie would be okay with this. Eric's happy. Let's just move on."

We've got some fresh characters like Carter (Lawrence Saint-Victor). It was about time that a character on the show was able to officiate weddings, since there are so many.
Yes! It all worked out so perfectly for Steffy and Liam. She wasn't going around all over the place to set up this incredible wedding, it sort of just all worked out. Eric designed her outfit, they got to have it at the Forrester home and then low and behold, Carter was able to marry them. I think that Steffy feels like it's truly meant to be and that it's supposed to work out if all these things are just being handed to them.
What would be your dream storyline to play on B&B?
I would love to just go all out loony bin crazy! Or have some kind of alter ego! It would be fun. Yeah, Steffy has been kind of a bitch sometimes. She can be evil and crazy, but we haven't seen her loony bin insane. Have something be really wrong with her. I would love to challenge myself and play something completely different. Something that could even send her to jail after committing a crime. Sometimes we trickle down that line, but I would love to just go for it! Something twisted.

She could always take on Phoebe's identity.
Yeah – I would love that! Just to try something completely different. I'm game for it!

It was great seeing you on Arrow – any chance we could see you again as Sarah Lance?
It's always a balance to film B&B and something else. Luckily, I've been able to work on some other projects and it's all worked out. It's tough when you are doing a soap and then other shows like Arrow are writing scripts where you never know if they can just put in you in. I've been in touch with everybody but I don't know how or what's going to happen. It's funny because people as me that all the time because there's been some talk of my character coming back. We'll see!

I'm really grateful for my eyesight, I don't think I could ever go through laser eye surgery after seeing your death scene in Final Destination 5! That was a big hit, do you have any other film projects your fans can look forward to?
I actually just finished a Lifetime movie called Her Husband's Betrayal, where I play the lead alongside another Canadian, Shawn Roberts (who was in Resident Evil). It's a thriller. They contacted me the script and I fell in love with the character and I said "Yeah, I'd love to dive into this and see what we can do." It was a quick shoot, probably a month. Sometimes when you're on a soap, you can't get out but I was game for it. I'm pretty sure it'll be out in the Spring. It's a character that I haven't really gotten to play before. It was a lot of fun!
The Bold and the Beautiful airs weekdays on CTV and CBS.