Argentina and Uruguay left without power in massive outage

Sky News
2019-06-16
Power is slowly being restored to millions of homes after a "massive" blackout which affected the whole of Argentina and Uruguay.

Edusur, a major provider to the two nations, confirmed the outage in a tweet on Sunday morning and engineers had been working to restore power throughout the day.

Argentine website Infobae said Edusar confirmed "the blackout is at a country level and also affects Uruguay" and said nothing like this had ever happened.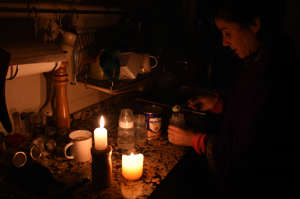 The outage is understood to have happened at 7am local time, about 12pm GMT, and is affecting millions of people.
Although power is being restored, the company has recommended those dependent on electricity attend hospital if necessary.
A statement from the energy secretariat two hours after the blackout was first reported added: "The causes are being investigated and are not yet determined.
"Recovery has already begun in the regions of Cuyo, NOA and Comahue and the rest of the system is being opened to continue with the total recovery, which is estimated to take a few hours."
The speaker of Argentinian Civil Protection, Daniel Russo, has told TN TV it could take between six and eight hours to re-establish power, but said some places are back to normal.
About 700,000 people have had power restored.
Edesur said: "The return of electricity generation to the interconnected system of the Federal Capital and Greater Buenos Aires has begun."
Uruguay's electricity service body UTE tweeted: "At 7.06 a defect in the Argentine network affected the interconnected system leaving the entire national territory without service, as did several provinces of the neighbouring country."

It later added: "There are already coastal cities with service and work continues toward general restoration."
Brazil was believed to be affected but a spokesman for the power system operator there said it had not impacted them.
The Provincial Energy Company of Cordoba said: "The Provincial Energy Company of Córdoba reports that, due to a failure outside Epec, in 500 kV of the national interconnected system operated by Transener, there was a zero-voltage restriction that affected much of the country including the Province of Córdoba, as well as areas of Santa Fe, Capital Federal and Province of Buenos Aires.
"At this time, work is being made to determine the reason for the failure and to be able to restore the supply in the shortest possible time."
It has also had a knock-on effect to the water supply in Santa Fe and by areas supplied by AySA.
Silvio Ubermann, who lives in Buenos Aires, said: "If this had been a weekday, it would've been chaos. Sometimes there is not light in the summertime as a result of high electricity consumption, but never such a large blackout in the whole country.
"I've never seen something like this."

People have reported blackouts in several regions. One twitter user shared an image of the darkened Mar del Plata.
The power outage means trains, subways and the metro cannot run and could affect whether schools and offices can open today.
It could also impact the regional elections taking place in several parts of Argentina.
Images on local media show some people casting their votes while others hold their mobile phones above them to cast light on the ballot paper.
There are reports that some places opened later for voting because of the power outage.
Infobae also reports that the website for the National Entity for Energy Regulation (ENRE) is down.
The site should report power outages in real time.