Gunman kills 4, injures 2 kids in shootings at several places in N. California, including a school

Los Angeles Times
2017-11-14
Video by Canadian Press
A gunman killed four people and injured two children in a shooting rampage in Tehama County on Tuesday morning before he was fatally shot by law enforcement.
Authorities described a chaotic scene in which a gunman in a stolen car appeared to pick targets at random in the rural Northern California county. They said the shootings appear to have begun as a "domestic violence incident" but did not provide details.
The gunman was fatally shot by sheriff's deputies. His name has not been released. The Tehama County Sheriff's Office said that it was dealing with seven crime scenes and that 10 victims were being treated for injuries.
Officials don't have a motive for the attack but said the gunman seemed to fire at random and might have been in some type of dispute with neighbors.
The gunfire began around 8 a.m. in Rancho Tehama, near Red Bluff, about 120 miles northwest of Sacramento.
"It was all over in about 45 minutes," Assistant Sheriff Phil Johnston said.
A semi-automatic rifle and two handguns were recovered after deputies shot and killed the gunman.
"I have to tell you I am personally grateful to the men who engaged this suspect," Johnston said."It's a tragic event, but I am personally grateful for engaging such a terrible, a mass murderer really. That's what he is.
"We have about 100 law enforcement personnel in Rancho Tehama right now, with multiple, multiple scenes," Johnston said. "I know that we have [airlifted] a number of students," he told reporters.
"I know that we have children that were attending school in a safe location at this time."
Nearby residents and business owners said they heard at least 100 gunshots.
"I thought this only happens to places like L.A. or New York," Jose Garcia, owner of La Fortune Convenience, told the Los Angeles Times.
Coy Ferreira, a parent at the school, told KRCR-TV that he heard a series of gunshots through a classroom window and saw one young boy shot in the foot and chest and a second student shot in the arm. Both were alert and conscious, he said.
The owner of a nearby cafe, Coffee Addiction, told The Times that she called 911 after hearing gunfire and screaming at the elementary school.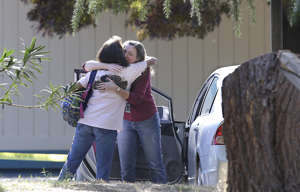 The woman, who identified herself only as Tiffany, said she heard about 100 rounds fired from what sounded like multiple guns.
The business owner said she and her husband and their four children moved to the area from Redding about seven years ago. She said that they have always felt safe. "It's a great community," she said. "I am hoping it doesn't get some kind of bad rap because of one person in one area."
Rancho Tehama has a population of about 1,485, according to a census estimate.
Gov. Jerry Brown released a statement expressing shock at the violence.
"Anne and I are saddened to hear about today's violence in Tehama County, which shockingly involved schoolchildren. We offer our condolences to the families who lost loved ones and unite with all Californians in grief," he wrote.
Sen. Kamala Harris said on Twitter: "Heartbroken by the news of a shooting at an elementary school in Rancho Tehama. Grateful to the officers and first responders on the scene. I am closely monitoring the situation."
Vice President Mike Pence also posted on Twitter. "Saddened to hear of the shooting in N. California, the loss of life & injuries, including innocent children. We commend the effort of courageous law enforcement. We'll continue to monitor the situation & provide federal support, as we pray for comfort & healing for all impacted."
UPDATES:
1:30 p.m.: This article was updated with a statement from the governor and details about the number of crime scenes.
1 p.m.: This article was updated with the number of weapons recovered.
12 p.m.: The article was updated with new details about the crime scene and narrative of shooting.
11:25 a.m.: This article was updated with comments from a parent at the school.
11:20 a.m.: This article was updated with comments from an area business owner.
11:05 a.m.: This article was updated with comments from an area business owner.
10:55 a.m.: This article was updated with a statement from the school district.
10:35 a.m.: This article was updated with additional details about student evacuations and the law enforcement response.
This article was originally published at 10:50 a.m.